No Surprise: Nicki Minaj & Mariah Carey Confirm They're Leaving 'American Idol'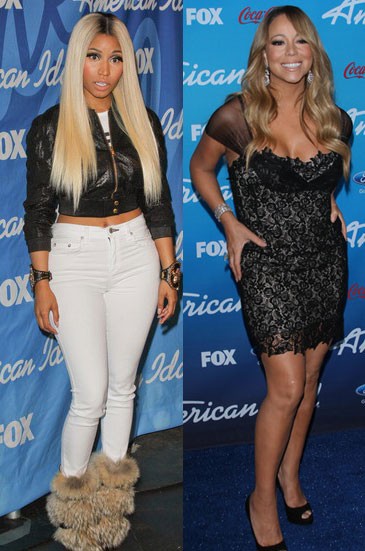 After just one season, Nicki Minaj and Mariah Carey are leaving their judging roles on "American Idol." The hip hop star announced her departure on Twitter, writing: "Thank you American Idol for a life changing experience! Wouldn't trade it for the world! Time to focus on the Music!!! Mmmuuuaahhh!!!"
Carey plans on embarking on a world tour on the back of her latest hit, "#Beautiful." She re-tweeted a message from  her publicists that read, "W/ global success of "#Beautiful" (#1 in 30+ countries so far) Mariah Carey confirms world tour & says goodbye 2 Idol."
Earlier this month, Randy Jackson confirmed he was leaving the reality competition, which leaves only Keith Urban to announce his imminent exit.
It's been rumored that former "Idol" star Jennifer Hudson will be joining the panel on the upcoming 13th season.
Fox executives are reportedly seeking an all-alum panel to try and bring back some of the 10 million viewers the show lost over the past two years. Producers are also considering spotlighting several of the show's former contestants - not just winners - who have gone on to have successful careers.
The show, which has experienced a steep decline in viewers, faces stiff competition from "The Voice" and "The X Factor."