No More Kings Launches Pop Culture Driven Website

Los Angeles-based pop/rock band
No More Kings
, known mostly for their viral music video hit "Sweep the Leg" (
www.sweeptheleg.com
), are associated with original, high-energy music that is also entertaining and witty. Their music has finally met its match - their website.
Developed entirely in-house at Astonish Records, No More Kings' website is possibly one of the coolest band websites ever. Not only does it match the bands' style perfectly, but it's incredibly thorough, very fun, and easy to navigate.
The first thing you'll probably notice about the website is its amazing colors and artwork, created by front man Pete Mitchell. Each page reflects a different song or character on No More Kings' self-titled album. For instance, clicking over to the "Tour" page will present you with a scene from Gulliver's Travels, which is the subject of the No More Kings song "Leaving Lilliput". (You also get to see Michael and K.I.T.T. from
Knight Rider
, among others.)
NoMoreKings.com is a fanatic's dream: there's loads of content, especially videos and live photos, and you can send the band a message or join their street team right there within the site. You can even shoot zombies.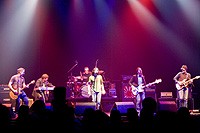 Another thing about the site is its small surprises - a fire hydrant that shoots water, or the animals that pop out of God's turntable on the "Contact" page. Yes, God's turntable. These little sound affects and visuals cause everyone to want to hunt for them.
Please be sure to have a look at this outstanding new site. Not only is it a step forward for No More Kings, but it's a step forward for how we look at websites.
-
No More Kings' official site
-
No More Kings on Starpulse
-
No More Kings "Sweep the Leg" video