NKOTB To Tour With 98 Degrees And Boyz II Men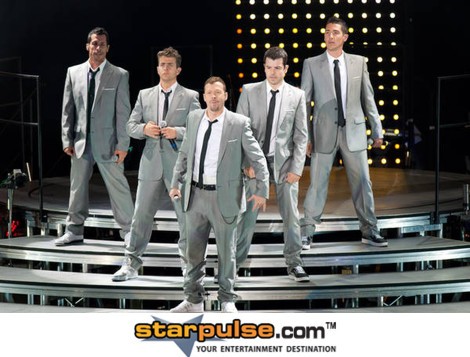 Veteran boy bands New Kids On The Block, 98 Degrees and Boyz II Men  are teaming up for a 28-date North American tour this summer.

The Package Tour will kick off on May 31st in Uncasville, Connecticut and hit America and Canada's top arenas, including the Staples Center in Los Angeles, the Nassau Coliseum in New York and Michigan's The Palace of Auburn Hills.

The tour became a reality after New Kids on the Block performed with the reunited 98 Degrees at the MixTape Festival in Hershey, Pennsylvania in August. The performance was billed as 98 Degrees' one and only reunion show after the band split a decade ago.
Announcing the dates on Tuesday morning, New Kids star Donnie Wahlberg said, "In these tough economic times, we figured... we are gonna bring a few guests to perform on the tour with us. The first group joined us for the Mixtape Festival, it's gonna be their first tour in 10 years, it's Nick, Drew, Justin and Jeff... 98 Degrees! We wanna add a little more to the package, so we decided that this tour would only be complete with the biggest-selling R&B act in the history of the music business, Nate Shawn and Wanya, better known as Boyz II Men!"

New Kids are also planning to release an album of new music in 2013. Singer Joey McIntyre says, "We are just finishing up an album... I guess that makes it official."

Wahlberg adds, "We're releasing an album soon. April 2nd the album will be out and our first single from the album will be out next week."

Boyz II Men star Shawn Stockman adds "This is something that we've wanted for a long time. We've been friends with both groups for a long, long time. We've always talked about putting something like this together, so to do it and to see the excitement of all the Block fans, which are all now our fans, it's a beautiful thing... We call ourselves the Dirty Dozen!"