'Nip/Tuck' Season Seven Hints

While Ryan Murphy was promoting the preview of his new show Glee, I slipped in some
Nip/Tuck
questions. The last episode left us with Christian married to Liz, but finding out his cancer scare was a clerical error, so he could have been free to manipulate and emotionally abuse superficial women this whole time.
"I will tell you, he goes through a horrifying divorce," Murphy said. "People love those characters. They're so good together so that we kind of have a whole season based on their [dynamic]. The whole season doesn't revolve around it, but it does involve, to a high degree, in their breakup and how they sort of break apart and yet remain friends because those two actors are really good together, but that's kind of what that next upcoming season is about."
Meanwhile, Sean will have bigger problems to face than any repercussions for killing his ex-wife's lesbian fiancé (Portia De Rossi) on the operating table. "We've killed too many people for that. The next season we have about nip/tuck is really about money, and it's about how the recession that we're currently in that seems will be going on forever really affects the plastic surgery industry, because I think people are more worried about their car payments and mortgage payments than about paying for lipo or boob jobs. So the show, along with the Christian story, Sean's preoccupation in that next season is really about keeping his family and business afloat in troubling times."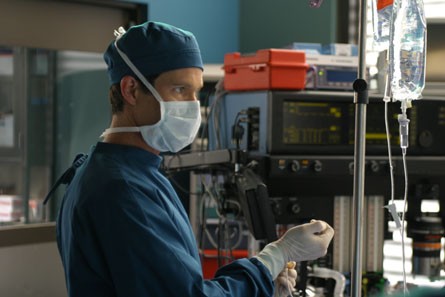 Image © FX Networks, LLC
Nip/tuck airs on F/X.
Nip/Tuck Cast:
Dylan Walsh
,
Julian McMahon
,
Joely Richardson
,
John Hensley
,
Valerie Cruz
,
Roma Maffia
,
Jessalyn Gilsig
,
Kelly Carlson
,
more
Story/Interview by
Fred Topel
Starpulse contributing writer
(Starpulse in Hollywood)
: Every week, Hollywood's biggest stars are meeting in the hot spots and Starpulse is there.