'Nip/Tuck' Performs Final Surgeries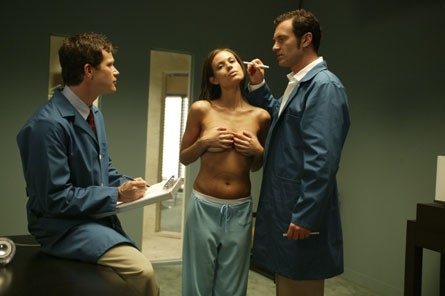 The Los Angeles doors of McNamara/Troy will be closing forever this March, as one of television's most risqué dramas ends its 100 episode run. Creator Ryan Murphy's bizarre tale of two plastic surgeons, who share not only a business, but a tumultuous brother-like relationship, has been able to shock the viewing audience over the past seven years, week in and week out.
The dynamic duo of Sean McNamara played by
Dylan Walsh
, and Christian Troy, played by
Julian McMahon
, will look for personal and professional closure as one of the most graphic and dramatic shows in television history comes to an end. From transsexuals to necrophilia, Murphy's
Nip/Tuck
has touched on just about every category of controversial as he possibly could during the show's 100 episode run.
Playing borderline sex addict Christian Troy, the question can be asked if actor Julian McMahon thought he was signing on for a prime-time porno, as it's possible that the audience has seen him naked more times than themselves over the past seven seasons. On the other end of the spectrum, Dylan Walsh clearly did not get to have as much fun playing the part of conservative Dr. Sean McNamara. Throughout the first several seasons, McNamara simply goes through the motions of life, trying to hold what's left of it together. In several schizophrenic moments, McNamara breaks his middle-aged mold and shocks the audience with an irresponsible act or two. If a viewer was feeling insecure that day, an ego boost would take place by simply turning on Nip/Tuck to see what their son Matt McNamara was up to that week.
Played by
John Hensley
, in seven short years, Matt has slept with a transsexual, a porn star, his cell-mate in prison, and his sister. In an early episode of the series, Matt suspects he has a sexually transmitted disease, which is a solid example of foreshadowing Matt's future sexual antics. The audience can blame his journey into the realm of Scientology on the fact that he had no idea who his real father was until he was informed it was his dad's best friend. Matt McNamara certainly gets a pass for that one. The provocative and beautiful relationship that McNamara and Troy share is one for the ages. The question is will Sean be able to put up with Christian forever and ride off into the sunset? Or will Ryan Murphy give Sean the ultimate payback by killing off the alpha-male Christian Troy in the end?
The clear difference between these two characters is the presence of conscience. There is no question, that after season after season, Christian Troy only cares about himself. Christian depends upon Sean to hold his life together for him, and Sean has played the role of the battered wife beautifully since 2003. Ryan Murphy has had the ability to keep viewers coming back for more, but it is obvious that he is running out of tricks up his sleeve. It is time for a change, and it appears that Murphy has already done that considering he is the creator of the mega-hit Fox comedy "
Glee
".
Hopefully Murphy remembers the folks that made him famous in the first place, because the actors of Nip/Tuck could need some work after this series completes in a few weeks. Maybe there's a place for Matt McNamara in the choir? Or Christian Troy can put down the scalpel and pick-up a mop as the hunky high school janitor? On a serious note, the cast of Nip/Tuck shares a kind of chemistry that is extremely hard to come by in episodic television. They are the dysfunctional family that absolutely hates each other, but cannot live without each other at the same time. Just as every successful television show from Full House to Seinfeld has done in the past, writers simply run out of ideas.
If Nip/Tuck stayed on for two more seasons, viewers would more than likely be reaching for the remote wondering if they are sitting on the couch at home on a Monday morning watching Jerry Springer. There is a fine line between shocking and exciting to tacky and in poor taste. Nip/Tuck has done a wonderful job entertaining millions of fans for seven years, but one can assume the viewing audience doesn't want to watch an aging Christian and Sean forever. Christian has had his run in the sun, sleeping with everything short of farm animals, and Sean was able to experience life in a way he never would have been able to if he never met Mr. Troy in the first place.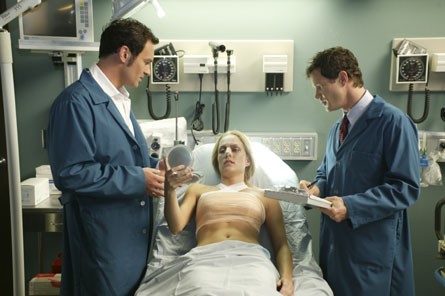 Image © PR Photos
It will be interesting to see if creator Ryan Murphy finally delves into the homosexual tension that these doctors seem to have had for one another over the course of their relationship, or if their partnership is truly one of a platonic, hate one day and love the next nature. Hollywood can be cruel to actors that have appeared on successful, long-running television shows. For actors, typecasting is like cellulite and stretch-marks for models. It can ruin a career, and unjustly make a talented actor unemployable. Hopefully, Dylan Walsh and Julian McMahon will be able to find success out of Nip/Tuck, as they are not only entertaining, but skilled actors who can play different roles well. Walsh's venture into the big screen was not as successful as he may have hoped, but that can be blamed on his agent for suggesting a role in The Stepfather in the first place. McMahon and Walsh have been superb in their roles as Troy and McNamara, and hopefully Hollywood will reward them for that in the long-run. As long as McMahon doesn't end up on
Celebrity Fit Club
in five years like
Dustin Diamond
, fans of this series will be able to remember Nip/Tuck and its actors for what it was, which is a disturbing and perfectly written dramatic television program for the ages.
Story by
Brian McKeon
Starpulse contributing writer