'Nip/Tuck' Finale Gives Fans Closure

The controversial and critically acclaimed television show Nip/Tuck ran its final episode on FX Wednesday night, leaving fans feeling bittersweet about the show's demise. Although most Nip/Tuck viewers will truly miss the series, even the die-hard fan can sense that the storylines had nowhere else to go and now was as good a time as any to send these plastic surgeons off into retirement.
As Nip/Tuck ended with its final chapter of love, lust, and vanity on Wednesday night, there weren't any earth shattering announcements, over the top surgeries, or that typical Nip/Tuck shock value in this episode. But the one thing that was in this finale, and a crucial part of any ending, was closure.         
 Loyal assistant Liz Cruz was finally made a partner. Not wasting any time, she got her chance to throw out the famous catch-phrase, "Tell me what you don't like about yourself" to Hiro Yoshimura, a Japanese porn-star in his seventies. With her new promotion and a baby on the way, Cruz appeared to be finally content with herself and her new life.  
In typical Matt McNamara fashion, he basically traded his daughter for his own happiness in the finale, which is in the form of transsexual Ava. The love of Matt's life was willing to ignore the fact that she doesn't love him just so she can have his daughter Jenna in her life. After abandoning Raphael, the child she stole from an orphanage because of his inability to be "perfect", Ava realized her only chance at true happiness would be through Matt's daughter.       
After 99 episodes of selfish, sometimes cruel, and constant egotistical behavior, Christian Troy showed the world his heart in episode 100. Troy freed Sean from his miserable life, as he forced Sean out of the partnership and gave him two one-way tickets so he could take baby Raphael back to the orphanage. This finally granted McNamara the opportunity to do the humanitarian work he had always dreamt of. With Art Garfunkel's "All I Know" playing in the background, McNamara got on his flight to start a new life and Christian didn't miss a beat, trying to pick up a beautiful blonde at the airport bar as the series faded to black.    
When the series premiered in 2003, it shattered cable rating records left and right, and the show was able to pick up a Golden Globe in 2005 for best TV drama. Creator Ryan Murphy's combination of graphic surgeries and sex pushed the boundaries in every episode for years. Never a dull moment with McNamara/Troy, this series will be remembered for its "no limits" philosophy on dramatic storytelling. In a sincerely heartwarming moment, Christian Troy bared his soul as he looked across the table and told Sean, "I wanted this to last forever. You know that." The series finale of Nip/Tuck tied up a lot of loose ends and was able to provide longtime fans with a true sense of closure to this groundbreaking and unforgettable series.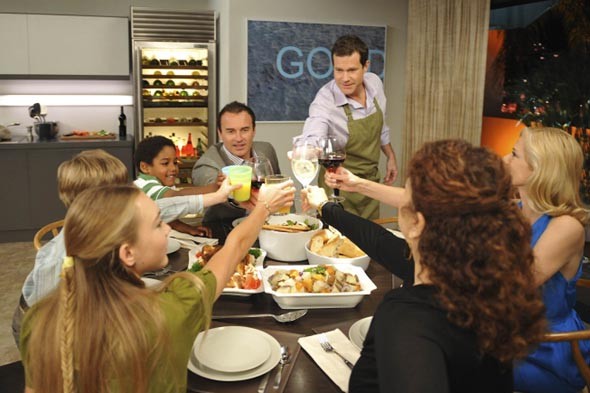 Story by Brian McKeon
Starpulse contributing writer