Nine Random Moments To Love At The 69th Annual Golden Globes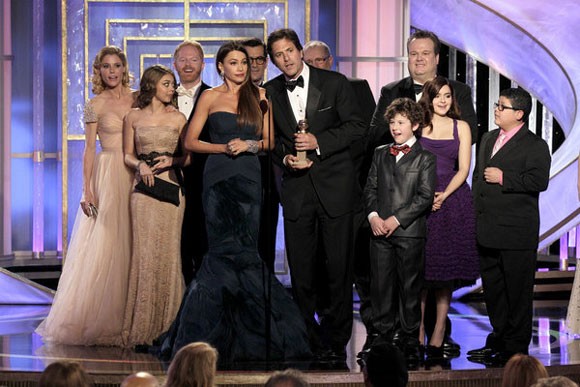 Hollywood's elite found their way back to the red carpet for the highly anticipated 69th Annual Golden Globes. And, like every awards show, it was ripe with all the ingredients of must-watch moments: those fashion hits and misses, awkward moments, tech hiccups, touching speeches and funny faces caught on camera. 
That said, in watching through all of that we handpicked a series of those moments that do wonders to sum up the show, whether or not you caught last night's awards action. So keep reading and check out some of the highlights:
1. Julianne Moore & Rob Lowe Script Hiccup: The vet actors were presenting for Best Mini-Series when lo and behold there's "technical difficulty" with the teleprompter feeding them their lines. Moore suddenly receives the script from someone off screen and conducts a quick, pretty clean cold read of the rest of the award. Lowe comments on it, impressed with her bounceback and the audience laughs it off. Crisis averted. A pair of Hollywood pros play it off and the awards show continues to move along!
2. Peter Dinklage's Acceptance Speech: The Game of Thrones actor, who won for best Supporting Actor in a Series, delivered a speech that did two things: set him up as a concerned parent, noting that it was the first time his baby daughter was home with a baby-sitter; and two, give him a chance to shout out Martin Henderson, an aspiring actor who was injured after someone picked him up and tossed him in the UK. Peter's mention make him a trending topic and brought even more awareness of the issue. 
3. George Clooney Walks Out With Brad Pitt's Cane: You have to love it when two vet actors are not only friends, but also joke around and show deep admiration for each other -- which was abundantly clear with George Clooney and Brad Pitt. At last night's awards, Clooney walked out with Brad Pitt's cane, jokingly noting that he needed to get the cane back to Brad so that he can make his way to the bar. Clooney then goes on to speak fondly of his friend, telling him how much he admires Pitt as a talent and his personal commitments, referring to Pitt's philathropic efforts, which only got an applause from the crowd and camera close ups of Brad and Angelina (Can you say "Awwww"?)