Nine Inch Nails And Marilyn Manson Producer Enjoys Growing Buzz With New Band 8MM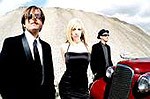 8MM
are enjoying widely growing buzz to their debut album,
Songs to Love and Die By
. On Thursday, February 8, 8MM had one of their songs featured on
Grey's Anatomy
, exposing the band to over 25 million viewers. The Los Angeles-based band's sound has quickly garnered huge media exposure. The WB's hit TV show
One Tree Hill
used two 8MM songs, even naming one of the episodes after the album title. 8mm is also the featured download on Road Rules.
It seems that some bands are formed purely by chance, but others are born out of a more urgent sense of inevitability. While working on
Kill Hannah
's
For Never and Ever
, producer Sean Beavan hit a roadblock while recording the song "Kennedy," when the band made the last minute decision to add female backup vocals. With only one day left to record Sean was unable to secure an available singer. Juliette, Sean's wife, coincidentally stopped by the studio, and was asked to help. Having never sung in front of Sean before, everyone was floored by her sultry yet delicate voice as she recorded the needed parts, inspiring Sean to start a new project. It was at this moment that 8MM was formed.

Sean Beavan, who helped forge the
Nine Inch Nails
sound from stage to studio and has produced/mixed records by
Marilyn Manson
,
No Doubt
, and
Thrice
, quietly self-released 8MM's debut EP,
Opener
, through the band's website. The band quickly generated a local underground buzz in Los Angeles, attracting the attention of the LA Times. Internet word-of-mouth led to tremendous organic support, including critical acclaim from both artists and influential tastemakers like Nic Harcourt of KCRW. The band ranges 2,000-7,000 plays per day on Myspace and
Opener
sales continue to increase. The band's dark, sensual sound even found its way to the ears of a promoter in Chile who organized a string of sold-out international performances.
8MM released their much-anticipated debut album
Songs to Love and Die By
on the newly-formed Curb Appeal Records on September 26 (2006). Juliette, described as a cross between
Billie Holiday
and
Jessica Rabbit
, weaves her spell through layers of atmospheric sounds and sensual grooves on the 10 song album. Just as inevitable as the band's formation and growing acclaim, these songs will surely find their way deep into your consciousness.
This husband-and-wife duo's chemistry shines on their songs as the music wraps perfectly around Juliette's seductive voice. She is well accompanied by her husband, multi-instrumentalist Sean Beavan, who is best known for his work producing
Nine Inch Nails
and
Marilyn Manson
.
Even with all of this media exposure, the band continues having a hands-on approach. They filmed their own steamy video for the single "Stunning" on Juliette's cell phone. Be sure to check out 8MM while you can still say, "I knew them when…"
Track Listing
01. No Way Back
02. Bones
03. You Know
04. Stunning
05. Never Enough
06. Liar
07. Quicksand
08. Angel
09. Give it Up
10. Forever and Ever
Watch the video for "Stunning"
here on YouTube
. Juliette shot it entirely on her Samsung cell phone and edited it in iMovie. All shot in their bedroom, lit with regular lamps....no crew, no hair & make up people...just Juliette, a cell phone & Sean's ear.