Nina Dobrev Plays Giant Beer Pong With Jimmy Fallon On 'Tonight Show'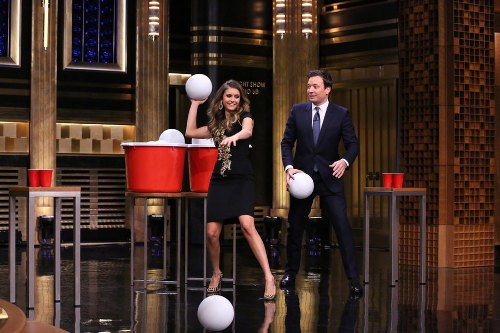 Jimmy Fallon sure loves his drinking games on The Tonight Show. After failing to play proper beer pong with Diane Keaton in April, he made the game bigger and better for last night's guest Nina Dobrev.
Using volleyballs and giant party cups (where does one buy those?), Fallon faced off against the Vampire Diaries star in a first-to-three contest. The rules were simple: Bounce the ball into a cup and your opponent has to chug a beer.
Jimmy quickly got ahead to a two-cup lead, but he got pretty cocky and began taking shots with his eyes covered. Check out the video to see if he pulled off the win in the end.
Nina also sat down with Jimmy for a more traditional interview on the talk show, although most of their chat detailed a recent monkey bite she suffered while she was abroad. Will she gain monkey-woman powers? Only time will tell.