Nina Dobrev: 'I'm Too Young To Wed'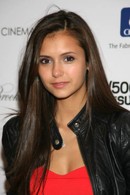 Actress Nina Dobrev is adamant she has no plans to marry her The Vampire Diaries co-star Ian Somerhalder, insisting they are too young to settle down.

The stars hit headlines earlier this month following reports Somerhalder had proposed and she had turned him down.

A representative for Dobrev subsequently insisted the rumors were untrue, and the two stars have now spoken out about the gossip.

Dobrev, 23, tells Access Hollywood, "(The story is) not true at all... (I would) be wearing a ring if I had one... (Getting married young is) not my (style). I'm young. I'm really young. It's not like back in the day where you have to get married and have your children by 18. I'm a career woman and a young, very driven woman, and I've got a lot I have to accomplish before I settle down and have kids and do any of that."

Somerhalder adds, "It's not true. If it were true, I would admit to it, 'cause getting turned down builds character!"