Nina Dobrev And Joe Jonas To Take A Vow Of Silence For Charity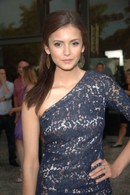 Actress Nina Dobrev and pop star Joe Jonas are among the celebrities taking part in a sponsored silence to raise money for a children's charity.

The Vampire Diaries star is joining the singer and other celebrities including Shaquille O'Neal and The Buried Life cast, who have all vowed to stay quiet for 24 hours on November 30th.

The stars are raising money for Free The Children's Vow of Silence campaign, which benefits youngsters living in poverty around the world.

In a post on her Twitter.com page, Dobrev writes, "Stand with me & Free The Children in silence to support those without a voice."

A message posted on the Free The Children website reads, "For Vow participants, being silent can mean refraining from speaking. It can also mean not using email, Facebook, Twitter or text messaging. It can even mean not using hand gestures, note writing or any communication at all. Participants like you can determine your level of silence based on what you're comfortable with."