Nils Lofgren Opens Up About Bruce Springsteen's 'Secret Band'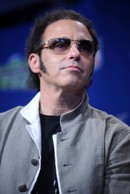 Bruce Springsteen and his wife Patti Scialfa have formed a secret supergroup - but they only perform at home.

The Boss' longtime E Street Band guitarist Nils Lofgren has revealed he often gets the call to turn up at the Springsteen family home for an all-star jam session around the kitchen table.

He tells RollingStone.com, "When I go to Patti and Bruce's we call ourselves The Wack Brothers. We laugh and come up with wacky stuff because we're very uninhibited around each other.

"Patti's singing, usually playing a guitar. Steve Jordan's on drums. I'm usually on some kind of guitar, Cliff Carter or Charlie Giordano are on keyboards, Willie Weeks sometimes on bass, or Bruce is on bass. All of a sudden Bruce, instead of being Bruce the bandleader, he's just the bass player or rhythm guitar player, or a great organ player.

"He has great ideas, and it's fun to just not be on the E Street Band. There's nothing wrong with that, but it's intense. This is a different kind of intensity, but still musically challenging and gratifying, with Steve Jordan and Patti Scialfa Springsteen as the heavies directing us.

"It's just a whole different vibe... that is good for the soul and the spirit."