Nikolaj Coster-Waldau Laments 'Raiding' Denmark As A Teen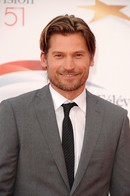 Danish actor Nikolaj Coster-Waldau narrowly avoided a brush with the law after raiding public buildings in an anti-government uprising as a rebellious teen.

The Game of Thrones star was just 15 years old when he took part in the destructive protest, wreaking havoc across his hometown of Naestved.

He tells The Sunday Times' Culture magazine, "I was 15 and part of an underground movement that was run out of Copenhagen. On one specific day, we had to 'close down the doors of power'."
"On a Tuesday night, me and my fellow rebel put on balaclavas and ran around Naestved. At the schools and banks and insurance companies, we put silicon into every lock."

Coster-Waldau had assumed the revolt was taking place nationwide - and only later found out he and his partner were the only two rioters who hadn't lost their nerve.

He adds, "Two days later, the local paper was saying we'd caused 150,000 kroner of damage. I was so scared, but I never got caught. In fact, I only told my mother five years ago, and I haven't got the bill."