Nikki Reed, Kim Kardashian Engagements: Speeding To The Altar?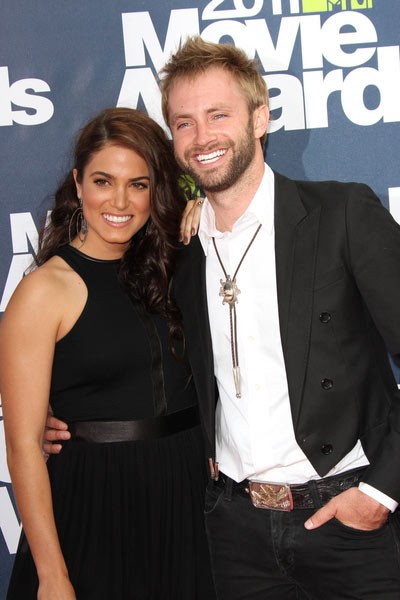 It looks like Kim Kardashian's not the only one itching to get married. "Twilight" star Nikki Reed is also bursting at the seams with love now that she's engaged to "American Idol" Season 10 contestant, Paul McDonald, news that the world caught wind of on Sunday night while the pair were on the red carpet for the "2011 MTV Movie Awards".
Apparently, Nikki was spotted with a new piece of jewelry on, and also shared three little words with E! celebrity gossip columnist Marc Malkin: "He's the one!". And, it seems that Paul is reportedly already writing music about his bride-to-be. (Insert dramatic, romantic sighs here)
The news comes pretty abruptly, given the fact that the pair met in early March at the premiere of "Little Red Riding Hood", and started officially dating in early April, according to E!. And, the pair had made no effort to hide their love, even making househunting plans as of late, according to what we're reading in People.
The news is quick, but it isn't unusual. Many celebs have been known for whirlwind romances and just last week, Kim Kardashian made headlines when she got engaged to Kris Humphries, six months after the start of their courtship -- complete with a 20.5 carat engagement ring flashed on the cover of US Weekly.
Nikki and Kim's stories may sound like Happily Ever After. But, these whirlwind romances beg to raise the question of how sincere these Til-Death-Do-Us-Part promises are or if there's something behind the rush to the altar. Kim's discussions for a prenup are already public (smart move, too) and it's pretty likely that most of the details leading up to their wedding will become even more fan fodder, to be examined closely over the next several weeks and months.
There's no telling what the future has in store for these ladies, and it could quite possibly because the best kind of happiness. However, we can only hope their quest for love ends in genuine, everlasting love -- and that the next headlines we read on these pairs don't spell trouble in paradise for either of them.