Nikki Blonsky Stamps Out Shoe Selling Rumors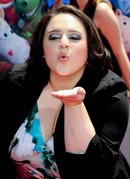 Hairspray Star Nikki Blonsky has blasted reports she's hit hard times and is working in a shoe store.
 
The actress was spotted in high-end New York footwear boutique Steve Dann last month, sparking rumors she's struggling to find acting work.
 
According to reports, she was a hit with customers and sang and danced to keep shoppers entertained.

However, Blonsky has now taken to her Twitter.com page to insist her new role was undertaken as a favor for a pal.
 
She writes, "So much false reporting! & false quotes. NO career changing! just experimented 4 (for) a day working (at) a friends boutique 2 see what it was like."