'Nikita' Recap: 'Intersection'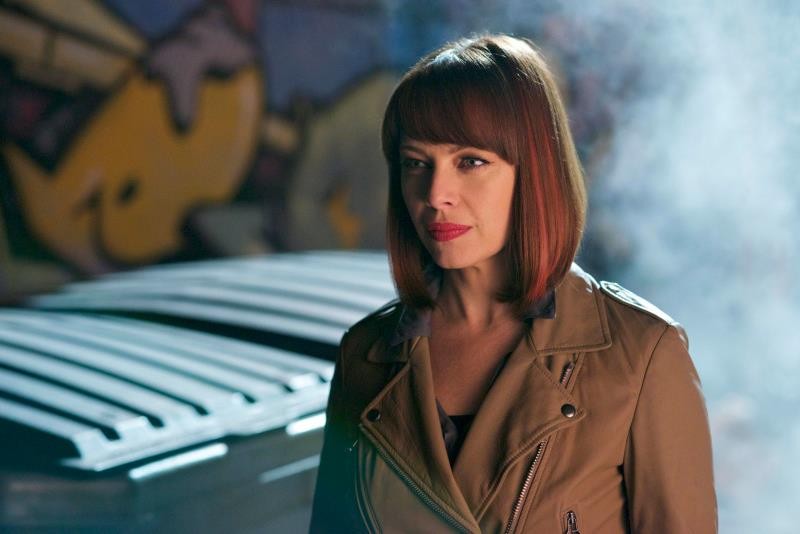 The CW's Nikita is back, and the series doesn't overlook all the juicy information it dropped at the end of its last episode. Picking up after the winter finale 'The Sword's Edge' by not long at all, 'Intersection' opens with Amanda (Melinda Clarke), now sporting red highlights, meeting with an operative in a dark alley (where else?) while Nikita (Maggie Q) tries to crash the party.
Back at Division, Sonya (Lyndie Greenwood) - previously revealed as Amanda's mole in the reconstituted agency - tells Birkhoff (Aaron Stanford) that she tipped off Amanda, which means Nikita's walking into a trap, in the form of cleaner Anne. Anne wounds Nikita, and then Amanda publicly tells Sonya that her services are no longer required, activating her kill chip. It's a pretty bleak beginning...and thankfully it's only Birkhoff's nightmare. It does, however, convince him that he needs to tell Nikita that Sonya is the mole.
Birkhoff meets outside of Division with Nikita and tells him Sonya's whole story, as well as the fact that there's a second mole in the team - someone else whose whole job is to monitor Sonya. Nikita decides to inform the rest of the team, over Birkhoff's objections, and tells him to make sure that Sonya plays along.
Elsewhere, Michael (Shane West) conveniently runs into Alex (Lyndsy Fonseca), and confronts her about her drug use. To say he's not thrilled that she's hopped up on experimental painkillers is an understatement. "This puts my life in danger, Nikita's, and anyone who relies on you to shoot straight and back them up in the field," he snaps. Alex promises to stop as long as he doesn't tell Nikita, and Michael tells her that she's not going back into the field until she's clean. Before he can chastize her any further, they're both summoned back to Division.
Ryan (Noah Bean) has made Amanda their own Carmen Sandiego, recounting to the agents where Amanda has been and telling them they need to discuss where she might be headed. His whole speech is fake to placate the second mole while everyone discusses what to do about Sonya - Sonya included. Nikita's idea to solve the problem is to kill Amanda. Birkhoff isn't thrilled, but Sonya retorts that "I want revenge for what she's done to me," and agrees to go along with setting a trap for their nemesis.