'Nikita' Recap: 'Consequences' (3.04)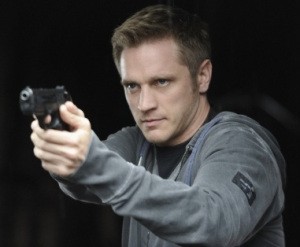 'Consequences' is the Nikita episode fans have been waiting for since the start of Season 3 - with the returns of Owen (Devon Sawa, now a series regular) and Amanda (Melinda Clarke), it's almost like another season premiere.
The former is discovered in a Russian prison, where an agent named Anne is sent to obtain his release in exchange for the location of "the device." When Owen doesn't go peacefully, he gets knocked out and winds up in the back of her van. When he comes to, he attacks Anne again and succeeds in driving the van off the road, allowing him to make his escape.
While that's happening, Nikita, Michael, Alex and Sean are out at dinner, celebrating Michael and Nikita's engagement. "It's gotta get easier from here, right?" Alex comments, which is a cue for something to get worse. The dinner is interrupted by an emergency page from Birkhoff, who wants to see Michael and Nikita immediately. As they leave, Sean, whose relationship with Alex seems to be going well if he's calling her "honey," reluctantly tells her that "you need to leave Division," which only makes her walk out, too.
Michael and Nikita meet Sonya and Birkhoff, who break the news of Owen's escape. According to reports, he's tried to rob the same bank in Montreal that Nikita first encountered him at during season one. Nikita knows this is a message to her, so she takes Michael - and a Division backup team ordered by Ryan - to meet Owen at an abandoned school in the same city. Not knowing any better, Owen attacks the Division agents, and doesn't accept Michael and Nikita's quick explanation of recent events. Michael ends up having to taze Owen to subdue him, while remarking to Nikita, "What? I didn't shoot him."
Once Owen is brought to Division, Ryan wants him interrogated in order to find out where he's been and what he's been up to, and assigns Alex to do the job. Owen tells Alex about Anne breaking him out of the Russian prison, and that "she wanted an information on an old mission." That's Operation Skeleton Key, which has to do with "unbreakable decryption algorithms," according to Birkhoff. Or, as Michael simplifies it for the audience, the engineer who designed the black boxes of Season 2 lore and the master key that would allow access to any system in the world. Only three people knew where to find said key: Percy, the deceased engineer, and Owen.
Owen becomes the latest person to question Division's new motives, telling Nikita that "actions have consequences." She brushes this off and goes with him and Michael to find the key, which is hidden in a cemetery under the headstone of Anthony George. No sooner has Owen found the key than a bunch of thugs emerge and start shooting. Leading them is none other than Owen's new best friend Anne. He tries to subdue her, but she stabs him repeatedly with a hypodermic needle and steals the key, running to a car being driven by Amanda. Nikita can only stand and watch as the vehicle drives away. "Anne's just a soldier," she says. "It's Amanda's army."