'Nikita' Recap: '3.0' (Season 3 Premiere)
For the second year in a row, Nikita starts its season in a completely different place than it began the one before. Nikita has achieved her goal of taking down the unscrupulous assassin factory Division - but what happens to both the characters and the series itself after she's reached the objective the show was built on?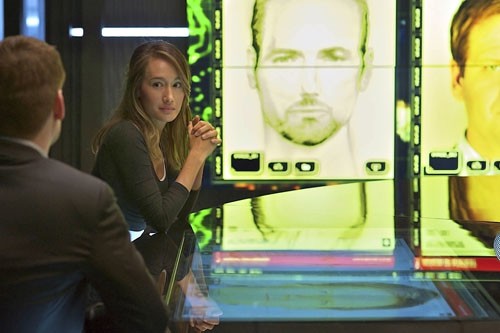 '3.0' - not to be confused with the second episode of the first season, '2.0' - opens in Hong Kong, where two guys are having one of those Secret Meetings In A Park that ends with one of them poisoning the other one. The murderer is on new Division boss Ryan Fletcher's watch list: he's rogue Division agent Robert Martin. Ryan sends Michael to bring in Nikita to help find Martin, and with the whole team back together, Ryan explains to them - and the audience - that Martin deactivated his tracker and the guy he bumped off was a CIA agent.
Nikita and Michael head to Hong Kong in pursuit of Martin, but Nikita wonders why Michael is a little twitchy. Not that he doesn't have about a half-dozen reasons to be after everything that season two put him through. She asks Birkhoff if, when Martin was operating under his cover as a fashion photographer, he had a favorite model. He did: her name is Lynn Capshaw and she's...currently on top of him. Birkhoff confirms that Lynn is home by calling her there, which also makes Martin suspicious. Once he sees that Nikita and Michael are outside, he calls the police to report an assault and snaps Lynn's neck.
When our heroes arrive, Martin is gone and the cops are right behind them. Michael tells Nikita that he'll surrender himself so that the police think they've found their man, while she continues to pursue Martin, whom she promptly loses. Michael gets interrogated by a police inspector who finds the engagement ring he'd been hiding from Nikita and mistakes it for evidence of his motive for Lynn's murder. Ryan is not happy about either of these developments.
Alex, Sean and a Division backup team are called in to help salvage the rapidly deteriorating situation. Back at base, Ryan deduces that there's a whole network of CIA agents that Martin is out to kill and only one is currently in China - James Wright. That adds a third objective to the list: protect Wright, stop Martin and break Michael out of jail. All in a day's work for the folks who overthrew Division in the first place, right?