Niki Taylor Wants Dionne Warwick To Sub Out On 'Celebrity Apprentice'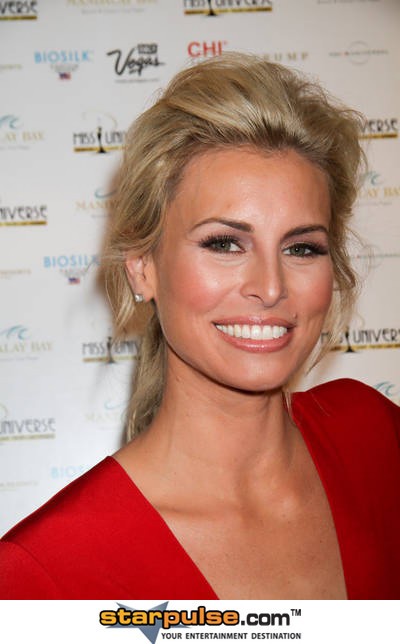 Niki Taylor remained the 'class act' she truly is during a live conference call with the media yesterday. She praised fellow team members Marlee Matlin, NeNe Leakes and Hope Dworaczyk , but did not have any compliments for Dionne Warwick, whom she repeatedly identified as a 70 year old, miserable, woman who did not appear to want to be in the game.
Under questioning, Ms Taylor admitted that, having seen Lisa Rinna savaged by the team the previous week, she worried about her turn as Project Manager, but was the only player who had actually ever been camping. She also felt that, had her team had the greenery and a jingle like that which had enhanced the Men's team's site, her team would certainly have won.
One interviewer mentioned that the Internet was abuzz with Star Jones actually complimenting Niki Taylor's job as PM. Ms Taylor said she has known Ms Jones for a few years, and that editing played a large part in how they all were presented. She was aware that Star had said she was lacking leadership, but defended the comment, saying that Star is a Type A personality, and that's how Star plays the game.  She admitted that the most exhausting part of Celebrity Apprentice was learning everyone's personality in a short amount of time, and finding that both Star Jones and Dionne Warwick had 'absolutely no joy in their lives."
Some of the celebrities were more difficult than others, she said, citing Dionne Warwick's attitude, and saying: "I've never seen a 70 year old person act like that, she was like that (difficult) to Marlee and Hope,  she was attacking everyone all the time. I knew my time was coming. No one can get kindness out of Dionne. I told Mr. Trump like it was, and you'll see in the next week the truth of how Dionne handles things. All I did was show her respect." Later in the interview, she also said that, in hindsight, she thought she should have asked Trump if Dionne really wanted to be there, "because I really want to be there and fight for my charity. Dionne seems miserable; you can really tell she doesn't want to be here. If Dionne quits or gets fired, bring me back."
Another interviewer said that while viewers were impressed with how Ms Taylor handled herself, especially in the Boardroom, they were upset with bullies, cattiness and backbiting being rewarded for their behavior. Her answer again cited the editing of events, and that such behavior makes for good reality TV.
Overall, said Ms Taylor, she enjoyed the challenge of The Celebrity Apprentice, and working with the other women. She was particularly pleased that she managed to win $35,000 for her charity, The American Red Cross, during the first episode. Her take on the eventual winner? She says to keep an eye on Marlee Matlin, Meat Loaf and John Rich.
The Celebrity Apprentice airs next on Sunday, March 27, on NBC.