Niki Taylor Backing Blood Donor Crusade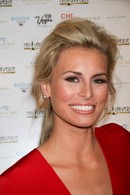 Supermodel Niki Taylor is urging her fans to give blood and use social networking sites to raise awareness of the need for donations.

The catwalk beauty, an ambassador for the American Red Cross, has called on more people to give blood to mark World Blood Donor Day on Tuesday - as it is a "misconception" that supplies are readily available.

In an interview with Marie Claire, she says, "The truth is that only about eight per cent of Americans that are eligible donate blood each year. Remember that all blood types are needed, especially type O negative because it can be used with all types of blood recipients."
 
"I encourage all women to get out there and donate, but it is equally as important to encourage others to donate and spread the word about the need for more blood donors. Women really influence their friends, so think about all the unique ways you can spread the word, whether it be Facebook, Twitter, blogging, etc."

Taylor admits the cause is close to her heart as she required a blood transfusion after a car accident in 2001.

She adds, "I needed over 100 units of blood. I owe my life to the donors and the American Red Cross who supplied the blood when I needed it. I can tell you first-hand that when you donate blood, you are literally giving the gift of live to some in need. I feel especially connected to World Blood Donor Day as a celebration of those who donate and help save lives."