Nike Launches Epic World Cup Ad Campaign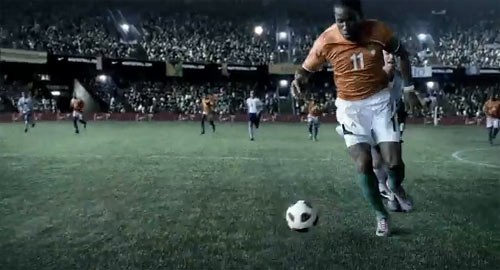 With the World Cup less than a month away, Nike has kicked off (pun extremely intended) its advertising campaign with an absolutely epic commercial titled "Write the Future." Featuring global soccer stars like Didier Drogba, Wayne Rooney, Franck Ribery, Cristiano Ronaldo, and Landon Donovan, the commercial is a three minute cinematic experience directed by Alejandro Inarritu, the man responsible for "21 Grams" and "Babel." There are cameos by Kobe Bryant, Roger Federer, and even Homer Simpson, making this commercial's scope go far beyond anything we have ever seen.
Also intriguing is its tie-in to "The Chance," which is being sponsored by Nike and will apparently give fans the opportunity to win an invitation to a Nike soccer camp where they will be scouted by professionals from the elite levels of the game. Though currently there is only a cryptic video on Facebook touting the event, there should be more information when it officially goes global on June 10th.