Nightwish Singer Tarja Turunen To Release Solo Album

With her unique tones and striking stage presence having played a key role in making
Nightwish
a major multi-platinum success,
Tarja
(now signed to Universal Music on an exclusive worldwide basis) is ideally placed to take her career to a whole new level, both in terms of musical ambition and personal profile; to this end, the 30-year-old - originally from the Finnish town of Kitee - has spent the past few months working on her first recordings beneath the 'Tarja' banner, making use of studios in Ireland, Spain, Switzerland, Germany, Finland and on the US West Coast.
Tarja's debut single, 'I Walk Alone' (inspired by
Mozart
's celebrated 'Requiem'), is already receiving an enthusiastic response from fans and media alike, with the accompanying video - directed by Joern Heitmann - due to be unveiled shortly. Meanwhile, the final touches are being put to the album itself: a genuine labour of love overseen by Daniel Presley, producer of
Faith No More
,
Jewel
and
The Breeders
(and relative of
The King
!), and featuring the talents of a truly stellar line-up of musicians. That's Doug Wimbish on bass (
Living Colour
,
Annie Lennox
,
Joe Satriani
,
Jeff Beck
,
Madonna
,
Rolling Stones
), Alex Scholpp on electric & acoustic guitars (
Farmer Boys
) and Earl Harvin on drums (
Seal
,
Pet Shop Boys
,
Air
), a player personally selected by Tarja after she saw him stealing the show at a Seal concert. Keyboards & programming, meanwhile, are provided by Torsten Stenzel, whose previous credits include
Nelly Furtado
,
Moby
,
Tina Turner
,
Vanessa Mae
and more.
Throughout her career, Tarja has managed to achieve that most difficult of tasks - seamlessly joining worlds that, at first glance, would appear to be poles apart; in this case, Metal & Opera. Could these two ever really stand shoulder to shoulder without one diluting the other? Well… not only did the soprano singer drive herself to achieve the perfect balance, with hits such as 'Nemo' storming the international charts, but in doing so she helped to create a style that is currently exerting a huge influence on the Rock & Metal scene in general.
And now there's 'My Winter Storm', an outing that sees Tarja adding an extra dimension to her already expansive approach, using movie soundtracks rather than traditional rock recordings as a measure against which the atmosphere and depth of the final recordings should be judged…
"I absolutely love film scores," stresses the singer. "I wanted - no, I needed to have the emotional weight and the dense feeling of the soundtrack on this album."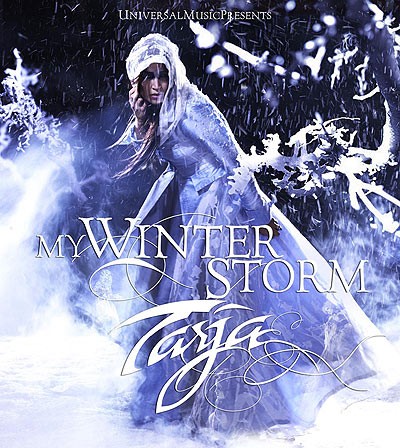 Happily, her reputation and skills were able to fling open the appropriate doors. When it comes to the world of the movie soundtrack, there really isn't a bigger (or a better) name than
Hans Zimmer
, a man whose credits include such international blockbusters as
Gladiator
,
Pirates Of The Caribbean
&
Black Hawk Down
, and once Zimmer had welcomed the project into his famed Remote Control Studios in Los Angeles, it was very much a case of all systems go. Arranger and composer James 'Jim' Dooley handled the choral and orchestral recordings, while Slamm Andrews - fresh from working on
The Simpsons Movie
- took charge of the mix, all of which made it possible for the potential of the recordings to be brought to fruition in full. No compromise. No constraint.
From classical structure right through to full guitar attack, 'My Winter Storm' is an album full of contrast and shifting mood; an album conceived to show not just those elements of Tarja that fans will already be familiar with, but different tangents and textures besides…
On one side, there's reflective soundscapes such as 'Oasis' (composed by the singer herself) and 'The Reign' - a track originally written as an instrumental piece but now benefitting from some haunting vocal lines underscored by Martin Tillmann's emotive cello. There is nothing in life (or music) more boring than playing it safe, and it's plain that such an approach was never ever the intention here; this album is all about stirring the senses, each and every one of them, which it does without apology, either by exploring dark corners as in 'Boy And The Ghost' or 'Damned And Divine', lifting the spirit as in 'Sing For Me' or unleashing the ancient gods of rock as in 'Ciaran's Well' or 'Lost Northern Star', the latter (Tarja's self-confessed nod towards the sturm und drang of Rammstein) featuring a total of 74 vocal tracks some of which rise together in a dramatic hook that could happily accompany the building of a pyramid or the dragging of large stones across the desert.
When the moment feels right, selected guest musicians are brought on board to add some extra spice to the sauce (take a bow Kiko Loureiro from Angra on acoustic guitar and Izumi Kawakatsu on piano), and there's something of a surprise in store in the shape of a cover version that sounds intriguing on paper and in no way disappoints in practice; the song in question is
Alice Cooper
's 'Poison', and it shows that Tarja - now very much writing her own rules - is as comfortable giving weight to her 'commercial' leanings as her classical ones, further enhancing her credentials as an artist you predict at your peril…
Simply, Tarja Turunen has always had the voice of an angel, a signature style that easily transcends language, location or musical type; now, with 'My Winter Storm', an album that will grab the lapels of anyone who likes their music dark of spirit, dramatic in intent and shot through with giant slabs of melody, she's about to (fully) spread her wings.
Listen:
Tarja – "I Walk Alone"
(Streaming audio and/or video links may expire without notice)