'Nightmare Before Christmas' Remains One Of The Strangest, Most Whimsical Disney Stories

With Halloween just around the corner, it is the perfect time to start celebrating by finding the perfect costume, putting up autumn decorations, and sitting down to watch one of the best Halloween movies of all time: "
The Nightmare Before Christmas
!" The movie was co-written by
Tim Burton
, with music and the main character's singing voice by
Danny Elfman
. It starred the voice acting of
Chris Sarandon
,
Paul Reubens
,
Greg Proops
, and
Catherine O'Hara
. It was nominated for an Oscar in Best Visual Effects and remains one of the strangest, most whimsical Disney stories of all time.
"The Nightmare Before Christmas" began with a poem by Burton that was considered a special or video short. Years later the movie was released in 1993. This was not your average Disney film; first of all, it was done in gorgeous stop-motion animation. Second, it was considered too dark and scary for Disney, so they released it under Touchstone Pictures instead. Yet it exceeded expectations by making $50 million. With several DVD versions and two runs of 3-D releases, "The Nightmare Before Christmas" has risen from being just a cult classic to a genuinely beloved film. Original, bizarre, and absolutely gorgeous, this movie takes all of the Gothic beauty of Burton's particular style and marries it to Disney's positivity and musical affinity.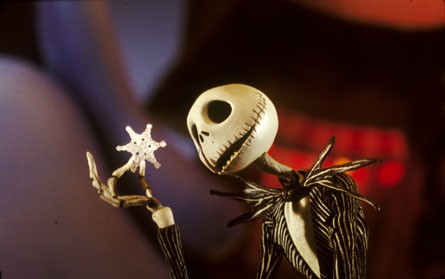 The film is about Jack Skellington, the most beloved and favored leader of the fantastical Halloween Town. It is a world where Halloween creatures thrive and plan their entire year around that one special day when they can come out and play. The movie manages to make monsters, ghosts, ghouls, vampires, and others into scary yet sympathetic characters. Jack is weary of his job and longs for something new and exciting. He accidentally stumbles upon Christmas Town and falls in love with its different feel and purpose. When he tries to bring it to his town, they simply do not understand and warp it to their perception of the world. Jack allows them to do so and steals Christmas away to serve his own obsessive need. In the meantime, ragdoll Sally hides her love for Jack and sees where his path will take him. Jack has to accept who he is, where he belongs, and find a way to save Santa Claus from the evil Oogie Boogie before it is too late.
"The Nightmare Before Christmas" is a movie full of dark humor, weird imagery, and a soul so deep it seems misplaced in a children's film. The stop-motion animation is stunning, and the setting is a monstrous kind of wonderland. Each character design is detailed and flawless, both terrifying and amusing. This movie was released in Disney Digital 3-D in 2006 and 2007. Well get ready, because it is here again. Every scene has been re-imagined to fit the 3-D world, and it is more entertaining to watch than ever. A limited 3 week engagement begins October 19. To find out if it is coming to a theater near you, keep an eye on the official website at disney.go.com/disneypictures/nightmare.
Do not miss the chance to see this magnificent movie on the big screen again. Be advised that it can be considered a little on the scary side for young children and is rated PG for that reason. Also check out any major store near you, because "The Nightmare Before Christmas" has been released as a 2-Disc Collector's Edition. It will include a digital copy. It is restored and re-mastered with all new extras. Be ready to scream and to laugh, and most of all, be ready for Halloween!
Story by
Chelsea 'Dee' Doyle
Starpulse contributing writer