Nigella Lawson - The Domestic Goddess
Of the many Cooking Channel shows worth giving a crumpet about, two of them that stand out are "Nigella Feasts" and "Nigella Express", hosted by the Domestic Goddess herself, Nigella Lawson.
What's so refreshing about this show is that Nigella is really just being herself. We see her cooking her food, eating it the way she likes it, and sharing it with people she loves (when she's not feeling particularly greedy). The truth is, we see a bit of ourselves in Nigella's unashamed obsession with food. She doesn't tell herself no, which a way of life most of us wish we could adopt.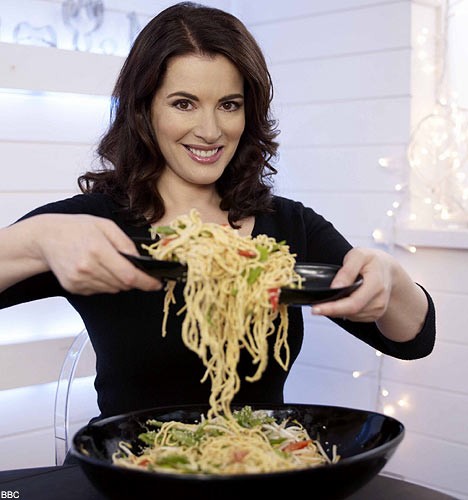 One of the best parts of the show is at the very end, when we see this British bombshell in her robe, standing in the light of the fridge, combining the dishes she made the previous day and snacking into the wee hours of the night. It's so perfectly midnight munchie.

What we ought to learn from Nigella is that earthy food is much more "real" than the fancy, over-the-top elegance we think we should provide for our guests. Why strive for perfection when the message we truly want to send is: "I made this for your enjoyment" and not "I slaved over this for several days."

What's also fantastic about Nigella is her way with words. Several publications, from Gourmet and Bon Appetit magazines to the Observer and Sunday Times newspapers, have seen Nigella's beautiful words laced across their pages. In fact, many of her turns of phrase have been lovingly dubbed "Nigella-isms". Favorite Nigella-isms include: "Oh some peanut butter. Why, I feel the urge to just rub it all over my body!" and "Gosh, I AM a greedy pig!" Several of these wonderful food and pleasure pairings show up in her numerous cookbooks that have gained international attention and praise.

Nigella Lawson is the indisputed Domesic Goddess, and may she reign as champion of that title for many years to come!

Catch her in "Nigella Feasts" and "Nigella Express" on Saturdays at 4pm ET/3pm CT on the Cooking Channel.