Nicole Scherzinger Catches Conan O'Brien Staring At Her Cleavage (Video)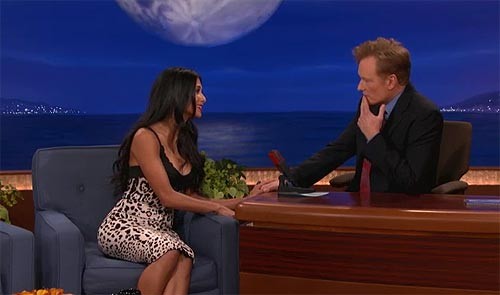 Former Pussycat Doll Nicole Scherzinger showed up for Conan O'Brien's show Tuesday night wearing a very low cut top - so low that it totally distracted the host and she had to tell him to stop staring!

Conan knew he was (ahem) busted, and exclaimed things like, "It is so unfair!" "Good God!" and "You didn't think I was gonna look down there!?"

Nicole visited Conan to promote her new show, The X Factor; and in addition to explaining the premise for the show she talked about X Factor creator & co-star Simon Cowell and his own "magical man boobs," or "moobs."

Nicole also did her impression of Britney Spears with a dead-on rendition of the pop princess' mega-hit "Oops! I Did It Again."


Check out the video below...
(Trouble with the player? See the video at TBS.com)