Nicole Kidman & Will Ferrell Top Worst Romantic Comedy Couple Poll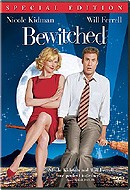 Nicole Kidman and Will Ferrell have been named the Worst Romantic Comedy Couple in a new online poll.

The Bewitched stars grabbed 17 per cent of the vote in the Valentine's Day-themed survey carried out by Fandango.

Junior co-stars Arnold Schwarzenegger and Emma Thompson came in second with 16 per cent, and Fran Drescher and Timothy Dalton were third with 13 per cent for The Beautician and the Beast.

Movie fans voted the unlikely coupling of Kate Winslet and Jack Black fourth for The Holiday, while Maid in Manhattan's Jennifer Lopez and Ralph Fiennes and Just Go With It's Jennifer Aniston and Adam Sandler tied for fifth.

In related Fandango polls, filmgoers picked Sarah Jessica Parker as the Worst Romantic Comedy Actress (27%) and Ashton Kutcher as Worst Romantic Comedy Actor (also 27%).

Adam Sandler and Dane Cook tied for second place.