Nicole Kidman & Keith Urban's Surprise Baby Details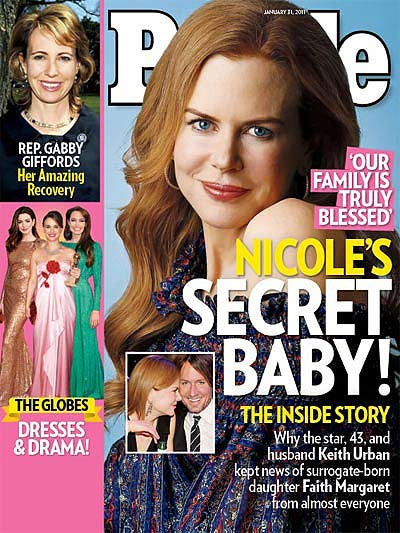 After yearning for a second child together, Nicole Kidman and Keith Urban, both 43, reveal the arrival of daughter Faith Margaret, born December 28th, by a gestational surrogate at the Women's Hospital at Centennial in their adopted hometown of Nashville. The couple kept many friends and even family members in the dark in the hopes of preserving some privacy during Faith's first few weeks. The new arrival, who is the couple's biological child, joins big sister Sunday Rose, 2, and Kidman's kids from her marriage to Tom Cruise, Isabella, 18, and Connor, 15. Kidman and Urban enjoyed quiet family time with their girls and Kidman's parents in L.A. for the week leading up to the Golden Globes.

Described as a "very calm baby" by a friend of the couple's, Faith Margaret takes her middle name from Kidman's grandmother and her first name from what her parents say they relied upon to fulfill their dream of expanding their family. "They never gave up faith they'd have another child together," says the friend. "They feel blessed."

If the news was a shock to many, Kidman and Urban themselves made no secret of wanting to have more kids after Sunday was born in 2008. "We always say, 'If it's God's plan,'" the Oscar-winning actress told PEOPLE in 2009. She added, "I actually love that I have to be in this world because of my kids. That I have a reason to live." Having shared her heartbreak after suffering two failed pregnancies during her marriage to Cruise, Kidman has also spoken frankly about her struggles to conceive Sunday. "It took me so long to get pregnant and have a baby, so I have enormous gratitude," she told the AP in December. For his part, Urban has been exceedingly open about the ways in which marriage and fatherhood have transformed him.

"There wouldn't be a Sunny without Nic, because she really saved my life," Urban told PEOPLE last month, referring to his wife's support during his stint in rehab in October 2006, just four months after their fairy-tale wedding. "So my instincts are for Nic to know she's the No. 1 girl in my life."

Now, he has a new girl in his life – a prospect the country superstar may have hinted at in the liner notes to his fall album, Get Closer. "I continue to be brought to my knees by this love of ours," he wrote to Kidman. "I just want to be a better man, for you, and father for our heavenly Sunday Rose…all we need is faith." Having yearned for another baby so deeply, the couple's spiritual bond, says a friend, is stronger than ever. "They're absolutely over the moon!" says the pal. "They so wanted another child, and they're just thrilled."

*ALSO IN THIS WEEK'S 'PEOPLE'*

-Inside The 2011 Golden Globe Awards
-Tim Mcgraw : "Love & Fame Can't [Co-Exist] If Fame Has The Power"
-Rep. Gabby Giffords' Miraculous Recovery Linked To Steady Support Of Husband, Mark Kelly
-Reese Witherspoon & Jim Toth's Wedding Plans: "It Will Be A Short Engagement," Says A Source
-Kourtney Kardashian: "My Mom Was My Brownie Troop Leader…It Was Like Troop Beverly Hills!"  
All this and a whole lot more in the new PEOPLE, on newsstands everywhere!
Click for more great Nicole Kidman pictures: