Nicole Kidman Is Nearly Naked On The Cover Of V Magazine's Travel Issue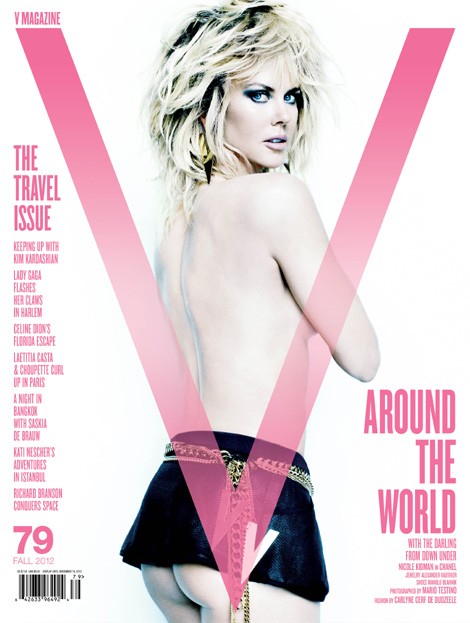 A topless Nicole Kidman graces the cover of V Magazine's Travel Issue in a special fold-out spread. The 45-year-old actress shows off her cheeks in a super short black skirt with gold chains around her waist.
In another shot in the magazine, Nicole wears a skimpy red lace bra with matching panties. She's also featured in a couple of black and white photos, staring seductively at the camera in only a push-up bra. Va va voom!
The actress is currently promoting her upcoming film "The Paperboy." The movie centers on Hillary Van Wetter (John Cusack) who is convicted of killing a seedy sheriff and is given a new life when a pen pal (Kidman) enlists the aid of two journalists to try and get him off death row.
In one much-buzzed about scene, Kidman's character, Charlotte, urinates on Zac Efron's character, Jack, after he gets stung by a jellyfish. Kidman explained, "The peeing thing, I didn't think was that weird, because I was in character. That was for the jellyfish. And for me it said so much about Charlotte. One, she's protecting him. Two, she's tough as nails and no one else is going to pee on this guy. All of that made total sense to me. I just went for it and didn't overthink it."
(For the record, doctors say urinating on a jellyfish sting won't relieve the suffering. Vinegar is a better treatment.)
In another "Paperboy" scene, Kidman and Cusack filmed a brutal sex act on top of a washing machine in which Hillary nearly strangles Charlotte to death.  Director Lee Daniels recalls, "At a certain point, I saw the bruises on her legs. So I said, 'Nicole, are you okay?' She lied. 'I'm fine,' she said. She wasn't fine. I could see the bruises. But she kept going."
Kidman, who was once married to Tom Cruise and is now happily wed to country star Keith Urban, also talks about controversial director Lars Von Trier and her family in V Magazine. Read more HERE!
CHECK OUT FOR MORE SEXY SHOTS OF NICOLE IN V MAGAZINE...