Nicole Kidman In Talks To Replace Sofia Vergara In 'The Paperboy'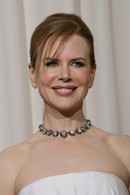 Nicole Kidman is in talks to help movie bosses deliver The Paperboy after Sofia Vergara was forced to drop out of the project.

Director Lee Daniels' movie, about a reporter who investigates a murder, has been hit with a series of problems - Tobey Maguire quit the project last week, and Vergara has now also walked away due to scheduling conflicts.

Kidman is now in talks to step in to Vergara's part as a woman who pens letters to men on death row, according to The Hollywood Reporter.

Matthew Mcconaughey and Zac Efron will also appear in the film.