Nicole Kidman Gets Leggy, Poses With Monster Trucks & Talks Tom Cruise In The November Harper's Bazaar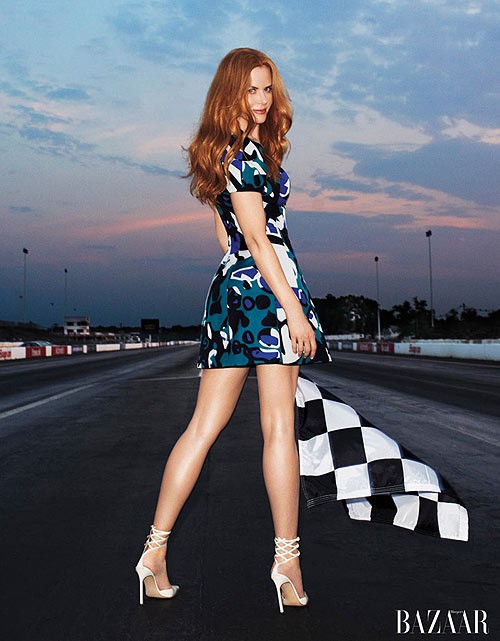 Nicole Kidman shows off her long legs in a new Terry Richardson photo shoot for the November issue of Harper's Bazaar magazine. The shoot features the stunning Australian actress posing with an interesting choice of props for such a movie icon -- monster trucks.

Nicole hits the big screen next week with her latest film, The Paperboy (Oct. 17); which also stars John Cusack and Zac Efron; and discusses the her red carpet style, getting older and the men in her life.

The actress opens up in the candid interview, revealing that she struggled with all the media attention she received when she was married to Tom Cruise.

"In those early years, it was like, 'I'm here and I'm clutching onto your arm, and it all feels a little overwhelming and really strange," she tells Harper's Bazaar. "And I was shy. Deeply shy. I didn't feel comfortable at all. But I felt very comfortable at home."

The couple hooked up after meeting on the set of their 1989 film Days of Thunder; and after their 2001 divorce she went on to find love with Australian Country singer Keith Urban, who she credits with keeping her secure and opening her up sexually.

"He just gave me confidence through just being very kind to me and understanding me, opening me up to trying things, my sexuality, those sorts of things," she says.

And that sense of comfort translates to her choices on the red carpet.

"I make sure to wear comfortable dresses because I want to be able to go out afterward and, you know, bend."

Check out Nicole's full interview and more pics in the November Harper's Bazaar, on newsstands October 23rd.