Nicole Eggert Suffers 'Swelling And Bruising' On Back And Kidneys After 'Splash' Dive Goes Wrong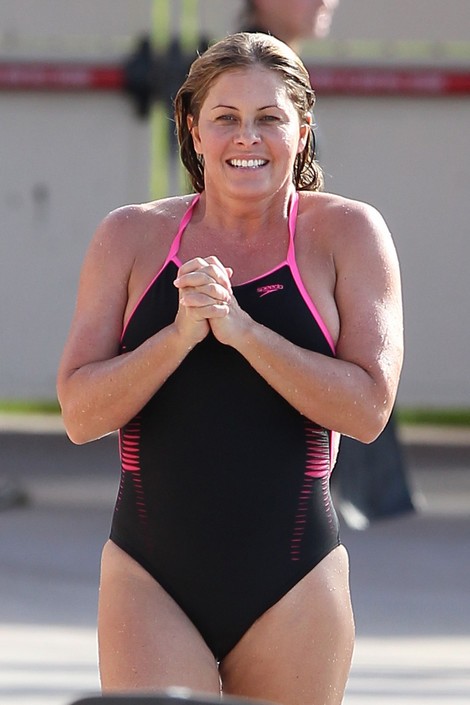 Former Baywatch star Nicole Eggert suffered some minor injuries Thursday after a high-dive attempt while taping an episode of celebreality show Splash went wrong.

According to TMZ.com, Eggert attempted a dive that included "multiple backflips" and hit the water flat on her back.

The star's rep, David Weintraub, confirmed the injury with E! News, calling the mishap a "bad landing."

The 41-year-old actress took to her Twitter page Thursday night after getting checked out at a local hospital, writing, "The ER is always fun."

But on Friday she said she was neither in the hostpital and she didn't have an "accident."

"Thnx 4 all the love but I am not in the hospital nor was I in a diving accident. Just have swelling and bruising on my back and kidney's xo," she posted to her Facebook page.

Though she suffered no broken bones, doctors reportedly checked her out to ensure she suffered no kidney damage from the impact either.

Eggert's injury is just one of the latest setbacks to plague the show. Last week former Miss Alabama Katherine Webb was ordered to pull out of the diving competition by her doctor because of a back injury she suffered earlier on in the show. And Chelsea Handler's talk show sidekick Chuy Bravo was forced to leave the show after the first day of taping. Extreme skier Rory Bushfield was also injured during a dive -- he suffered a ruptured eardrum but hasn't left the show.

But Nicole has toughed it out since day one. In a post to her Facebook page last week she wrote, "Don't think there is a part on my body that didn't take a beating on the water today. Black eye, bloody nose and all. Goodtimes."

The show itself also suffered a big injury this week: ratings plummetted to just 5.2 million viewers, a significant drop off since the its debut, which pulled in 8.8 million viewers.