Nicolas Cage To Star In Indie Musical With Steve Carell & Jack Black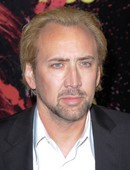 Actor Nicolas Cage has signed on to star in an independent musical with the Hollywood screenwriter/director who helped to land him an Oscar nomination in 2002.

The Ghost Rider star earned Academy Award recognition for his turn in Charlie Kaufman's Adaptation and now the pair is set to reunite for forthcoming project, Frank or Francis.

Comedians Steve Carell and Jack Black are also attached to the movie.

Plot details have yet to be released, but the story is said to revolve around an author called Frank, who clashes with an online blogger named Francis, reports trade paper Daily Variety.

Production on the film, written and directed by Kaufman, will begin in January.