Nicolas Cage Takes Aim At Ex Over Conservatorship Plans For Son Weston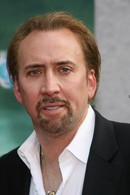 Nicolas Cage has blasted his ex Christina Fulton for attempting to obtain a conservatorship over their troubled son Weston, insisting she's the one who should "get some help."

The former couple came face-to-face in court on Tuesday in an attempt to settle a $13 million property lawsuit.

Fulton told reporters at the courthouse she is taking legal action to oversee Weston after he was hospitalized and underwent a mental evaluation last week after a public brawl with his fitness trainer.

The 20-year-old rocker has since been released from a psychiatric hold, and Cage is adamant Weston doesn't need his mother's help to get by.

He tells TMZ.com, "I hope Ms. Fulton will come to her senses one day and get some help... Weston is a man. I have complete faith he will weather this well."

And the Eyes of Noctum star insists he's trying to distance himself from his mom, adding, "I am a fully capable and self-sufficient adult. I want no contact with Christina Fulton and will never undergo the torment she put me through ever again."

At press time, neither Weston nor his parents had disclosed what that he meant by the "torment."