Nicolas Cage Always Wanted To Make Family Movies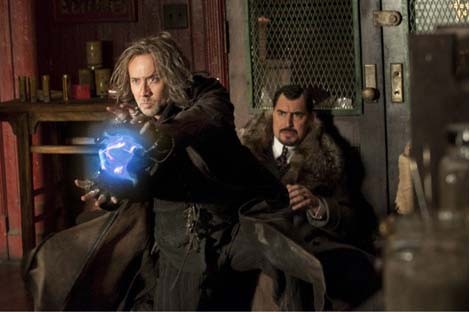 Nicolas Cage came to the comic book convention WonderCon in San Francisco to show families a preview of his upcoming film The Sorcerer's Apprentice. Cage stars along with young actors Jay Baruchel and Teresa Palmer, who recalled sneaking into Cage's R-rated movies when they were younger. That struck a chord with Cage. 
"I love that story because my wife snuck into Face/Off," Cage said of Baruchel's antics.
Cage may have become more of a family man, but he says he always wanted to make family movies. "I want to do these movies anyway," Cage said. "I want to reiterate that this movie will entertain adults as much as kids, but I do think having been a father now for over 19 years, once I had a child, it opened my mind to other possibilities. I wasn't an anarchist anymore. I love the Sex Pistols but I kind of didn't want to be punk rock all the time anymore so I decided to go in other directions, probably as a result of fatherhood, yes."
The Sorcerer's Apprentice is based on the Mickey Mouse segment from Disney' Fantasia. Cage plays a centuries' old sorcerer. "I also think it provides really wonderful entertainment for the whole family. You don't have a high body count. You don't have to if that's not to your tastes. The children and the parents can congregate together and look forward to this together, buy the ticket, say, 'I'm looking forward to The Sorcerer's Apprentice.' That's important. Families get together and share that experience with each other and it entertains the adults as much as the kids. You can do that with a film like Sorcerer's Apprentice."
The Sorcerer's Apprentice is coming July 16.