Nicki Minaj's New 'Starships' Music Video Has A Lot Of Neon & Bikinis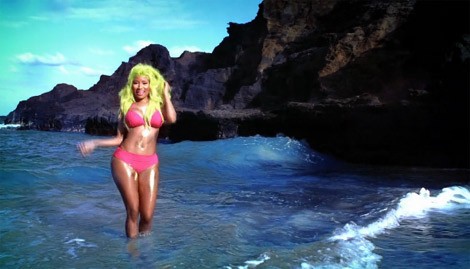 Nicki Minaj debuted the video for her pop song "Starships" online last night, and the rapper showed off her very curvy body in a pink bikini and green hair.
The video starts with a starship hovering over a tropical island where beautiful people lay around in bikinis and tribal men show off their tattoos.  Nicki is beamed down to earth and frolicks and dances on the beach, gyrating her huge tush as half naked men are hit with splashes of bright paint. She sings "Let's go to the beach, each/ Let's go get away/ They say, what they gonna say?"

The video gets kalidescope trippy in parts, and Nicki changes her bikini and hair color as she dances on lush green grass. The video ends in a massive dance party.
Fun? Check. Nicki-centric? Of course!
Watch it below: