Nicki Minaj's Explicit 'Stupid Hoe' Video Banned By BET (Watch It)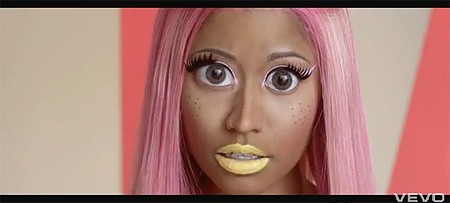 Nicki Minaj's latest video has been banned by the Black Entertainment Television network (BET) for being too explicit to air on TV.

In the video for her latest single, "Stupid Hoe," Nicki appears in several risque outfits, including an abundance of side-angle shots of her very rotund derriere in just a thong; and she shakes that booty in suggestive ways while dancing in a small animal cage.

The song, which features very explicit and repetitive lyrics set to a pumping bass beat, is the first to be released from her upcoming album, "Pink Friday: Roman Reloaded."

The album features guests such as Drake and David Guetta and was originally set for a Valentine's Day release, but has been pushed back to April 3. It's the follow up to her platinum debut album, "Pink Friday."

Only six track titles have been released so far, so it's not clear if Roman Reloaded is a true sophomore album or just an extended version of her debut (aka "cash grab").
We'll have to wait and see; and until then, suffer through songs like "Stupid Hoe."


Check it out below (explicit lyrics & some questionable images)...





Here's the track list so far:
1. Roman In Moscow
2. Stupid Hoe
3. Va Va Voom
4. Fast Life (Feat. Drake)
5. Turn Me On (Feat. David Guetta)
6. Muthaf***a Up (Feat. Tyga)