Nicki Minaj Tells Ex 'Idol' Judge Steven Tyler To 'F' Himself In Twitter Feud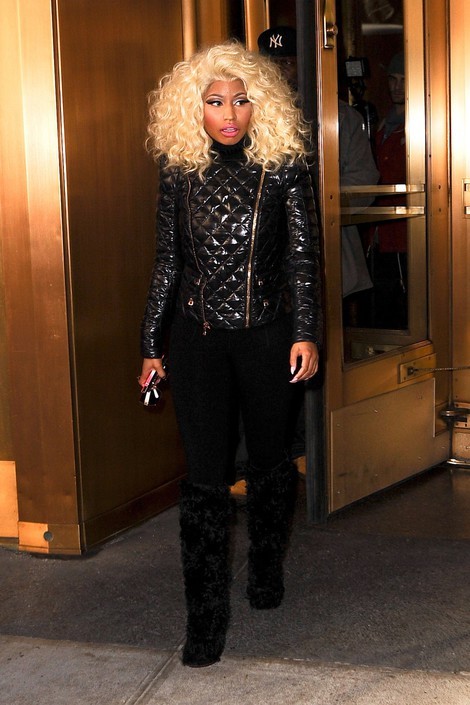 The new season of "American Idol" hasn't even aired yet, but Nicki Minaj is making a lot of people angry, including former judge Steven Tyler.
The Aerosmith singer commented on the animosity between Minaj and Mariah Carey, saying they should get along for the benefit of the contestants.
He tweeted, "I know that they've got something going on on the judges' panel; it shouldn't be that, it should be the opposite. They should have something going on, which is called 'camaraderie'.
 
"These kids, they just got out of a car from the Midwest somewhere and they're in New York City, they're scared to death; you're not going to get the best (from them)."
Tyler slammed the rapper on Twitter, suggesting she wouldn't be able to spot real talent if she saw it. "If it was Bob Dylan, Nicki Minaj would have had him sent to the cornfield. Whereas, if it was Bob Dylan with us, we would have brought the best of him out," he posted.
In response to the criticism, Minaj raged, "Steven Tyler said I would have sent Bob Dylan to a cornfield??? Steven, you haven't seen me judge one single solitary contestant yet! You assume that I wouldn't have liked Bob Dylan??? Why? Black? Rapper? What? Go f**k yourself and worry about yourself babe.
 
"I understand you really wanted to keep your job, but take that up with the producers. I haven't done anything to you. That's a racist comment.
 
"When Steven first went on Idol he was ridiculed by his peers and fans alike. Called a sell out. So what does he do? Ridicule the next judge."
Minaj, Carey and fellow new judge Keith Urban were drafted in to replace Tyler and Jennifer Lopez when they quit the show this summer.