Nicki Minaj Takes To Twitter To Continue BET Rant – Iggy Azalea Responds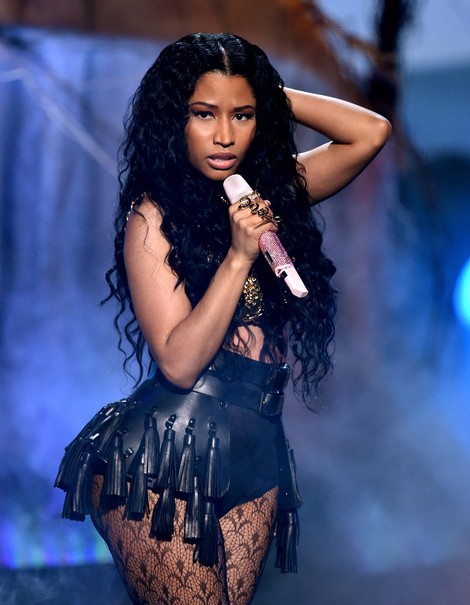 Nicki Minaj continued to talk about female writers and their impact on Hip-Hop after her statements during the BET awards were considered a slight against Iggy Azalea.
On Sunday night while accepting the award for Best Female Hip-Hop Artist, Minaj went on a tear and talked about everything from a near-death experience to other musicians in her field. She said in part, "What I want the world to know about Nicki Minaj is when you hear Nicki Minaj spit, Nicki Minaj wrote it... No, no, no shade." It was assumed Minaj was referring to rumors Iggy doesn't write many of her songs and instead uses ghostwriters, including producer T.I.
Minaj didn't exactly step back from her comments, writing today on Twitter, "The media puts words in my mouth all the time and this is no different. I will always take a stance on women writing b/c I believe in us!" She then continued:
I believe we're smart enough to write down our own thoughts and perspective, just like the men do. I've been saying this for 5 YEARS

— PillsNPotions (@NICKIMINAJ) July 2, 2014
I fell in love with Lauryn Hill b/c I knew she was the author behind those amazingly profound and articulated songs on the MisEducation

— PillsNPotions (@NICKIMINAJ) July 2, 2014
I wondered how Lauryn tapped into my brain and wrote an album on love, betrayal, passion, pain, triumph, brokenness.... Did she read minds?

— PillsNPotions (@NICKIMINAJ) July 2, 2014
I've congratulated Iggy on the success of Fancy, publicly. She should be very proud of that. All the women nominated should b proud.

— PillsNPotions (@NICKIMINAJ) July 2, 2014
That will never change my desire to motivate women to write. Our voices have to be heard. I hope I inspire up & coming females to do that.

— PillsNPotions (@NICKIMINAJ) July 2, 2014
So Minaj wasn't blasting Iggy because she was her competition, but because she wants more female writers out there. For what it's worth, Azalea has responded to the headlines about a possible feud between her and Minaj on Instagram. Check it out below: