Nicki Minaj Suffers Wardrobe Malfunction On Set Of Latest Video, 'High School'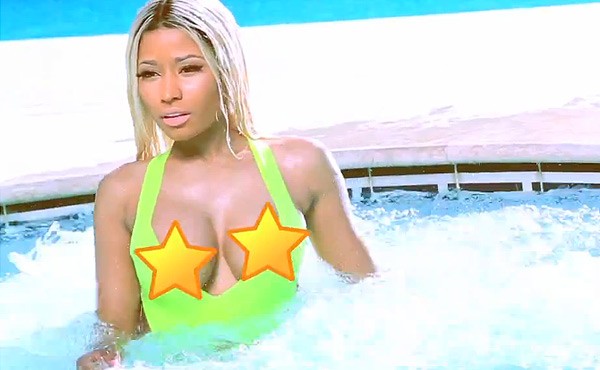 Nicki Minaj tweeted a few photos of herself in a very revealing one-piece swimsuit from the set of her new video last week, and now a full behind-the-scenes video from the set of "High School" has been released.

The two-and-a-half minute clip features the singer having a wardrobe malfunction and falling out -- literally -- of her fluorescent green one-piece while in a jacuzzi, but not seeming to care much about it as she casually dips under and puts her parts away.
"This jacuzzi is fun!" She exclaims, inviting everyone to join her. "Get in, crew, get in!"

Fans hoping to get a glimps of Nicki's bare breasts will be disappointed though, the video's producer, Grizz Lee, digitally covered her up with a pair of yellow and orange stars.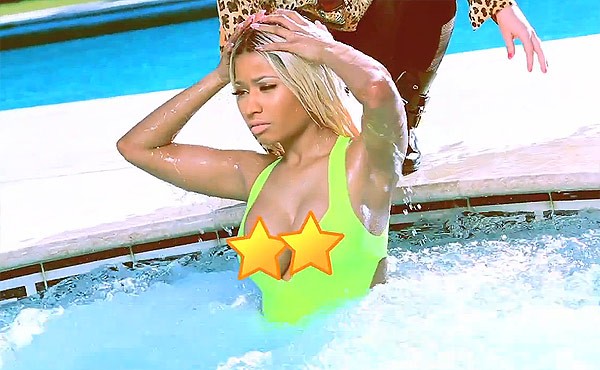 The video was filmed at a gorgeous estate in Los Angeles, with lush scenery and a huge mansion on its grounds.

Rapper Birdman makes an appearance also, and Nicki tries to get producers to cast him as her husband in the video for the song, which features Lil Wayne.

Last weekend Lil Wayne was hospitallized following a series of seizures, and both Nicki and Birdman stopped to visit him at Cedars-Sinai hospital. The three stars collaborated on Birdman's single "Y.U. MAD" in 2011.

A release date for Nicki's new video hasn't been revealed yet.