Nicki Minaj Shows Off Her Bust At The Launch Of Her 'Pink Friday' Fragrance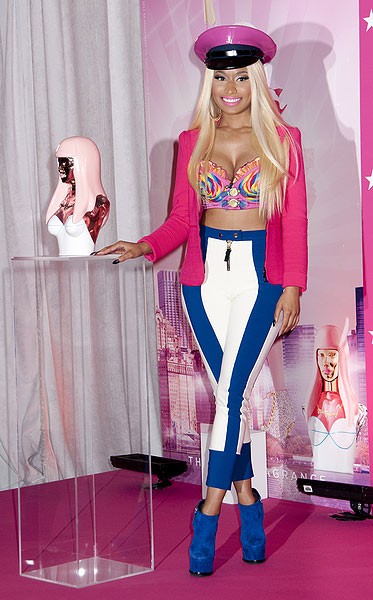 Nicki Minaj launched her first fragrance, named for her debut album "Pink Friday," at the Macy's Herald Square store in New York City on Monday wearing another one of her crazy outfits.

The star showed plenty of cleavage on the pink carpet, wearing a hot pink Armani jacket, skin-tight Marni blue & white pants, Giuseppe Zanotti blue suede platform booties, a swirly rainbow bra and a hot pink policeman's cap.

Hundreds of fans showed up to the event and the first 300 who purchased the new fragrance -- sold in pink and white bottles in the shape of the singer's bust -- received the opportunity to meet Nicki and received an autographed limited-edition Pink Friday fragrance ad.

Nicki recently signed on as a judge for the upcoming season of American Idol; and on Tuesday she posted the message "There's less than ONE MONTH to go until Nicki Minaj arrives in the UK for her Pink Friday: Reloaded Tour – have you got tickets yet?!" on her Facebook page.

We're not sure how that factors in to her upcoming schedule for AI auditions, but it sounds like she's going to have a pretty busy fall.