Nicki Minaj Rocks Out With Lil Wayne, Drake & Foxy Brown At NYC Gig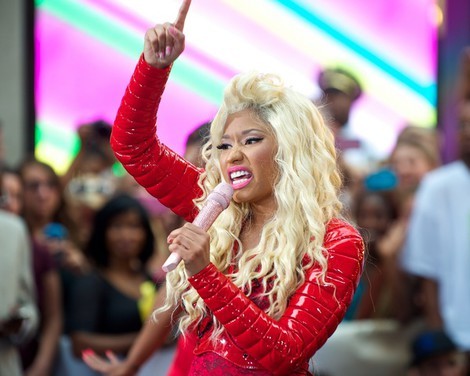 Following an appearance on "Today" on Tuesday morning, Nicki Minaj performed for a huge crowd at New York City's Roseland Ballroom that evening.
In June, Lil Wayne pulled the hip hop star from Hot 97's Summer Jam concert after one of the radio station's hosts made a few jokes at Nicki's expense earlier in the night about her hit song "Starships."
She made up for it in NYC last night, belting out favorites such as "Roman's Revenge" and "Did It On 'Em'" alongside a posse of dancers. She addressed the crowd: "I just want my fans here, 'cause I don't want people to come and observe me. If you didn't come here to have a good time, go home!"
Several other hip hop heavyweights joined her on stage, including Lil Wayne, Drake and Foxy Brown, who sang "Oh Yeah" and "Tables Will Turn" with Nicki.  Nicki complimented Foxy, calling her the person "who has influenced me the most out of every female in the rap game."
Then Nicki called Drake "the worst kind" of guy before belting out "Make Me Proud" with him. Lil Wayne shouted that he was very proud of his protege, while Nicki gave a shout out to country star Taylor Swift, with whom she collaborated on "Super Bass."
A doctor had advised Nicki to rest her voice for two weeks, but the rapper made sure she didn't disappoint fans who expected her to perform.