Nicki Minaj Reveals Her Favorite 'American Idol' Contestant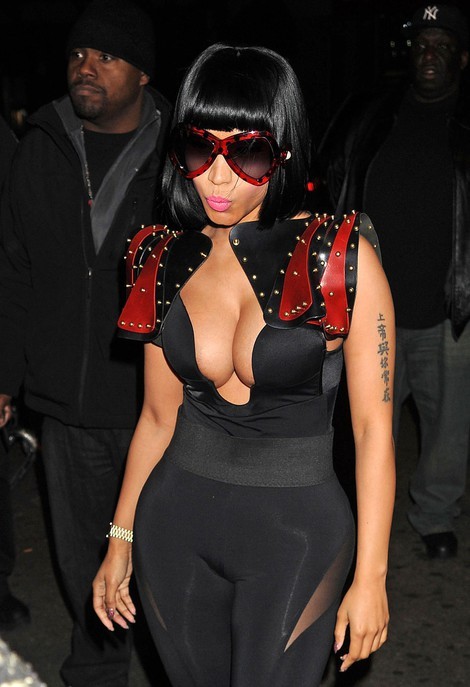 The new judges for American Idol met the Television Critics Association today. Nicki Minaj is one of three new judges replacing Steven Tyler and Jennifer Lopez, and though the show is only in audition stages, Minaj described one of her favorite acts.
"Nobody else thought she could sing," Minaj said. "Big Crazy Baby, Obama girl. No one else thought she could sing and I kept on hearing she had potential. Everyone saw her as a crazy character and I can relate to that because when you have a crazy outgoing character, people don't see your talent. By the time we were in Hollywood, they said, 'You know what, she does have a good voice.' I said [to her], 'If you tone it down a little bit they're going to hear your voice, and they did.' You guys are going to love her."
Minaj said she's been watching American Idol since Season One, and she has some opinions on how things should be run.
"When I watch these shows and someone says yes to a person who clearly doesn't deserve it, it bothers me. I want to jump through the TV. For people who are talented there, it minimizes how talented they really are. I didn't have a problem saying no because we're looking for the best of the best. I remember watching from home and I didn't like when people would be overtly passive about the talent because we're really here to do a job and I don't want to be here if I'm not going to do it. We literally can go there, sit there, do nothing and get a check. I just don't want to do that. For me it was completely different. I don't feel the need to send a person through just because of a great story or there's something going on that will make people cry. I feel like even the great singers may have stories that will make people cry but that shouldn't change our decision because it's unfair to the people who are really great."
Mariah Carey is another new judge on American Idol, and both she and Minaj deflected questions about their reported feud. "We're professionals. Have you ever had an arugment with people you've worked with?"
They're working harmoniously together now, and Minaj even spoke highly of her colleague in music and television.
"I say nice things about Mariah all the time and I even tell her all the time how much of a fan I am of her. She's one of my favorite artists of all time. She's really shaped a generation of singers. To be on a panel with her, it's kind of crazy because all these singers that come in, they aspire to be Mariah Carey in terms of their talent, in terms of their career length. So I feel excited to see them see someone who they look up to so much and be able to get a chance to sing in front of her and hear her critique."
American Idol premieres January 16.