Nicki Minaj Eager To Launch Her Own Clothing Collection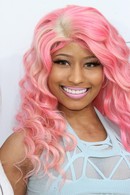 Rapper Nicki Minaj is on the verge of securing a lucrative fashion deal to release her own clothing collection.

The Super Bass hit-maker, who is known for her outrageous and colorful style, has already landed her own pink shade of M.A.C. lipstick and will share her favorite nail polish colors with fans in her upcoming line for OPI, but Minaj is now setting her sights on making a bigger mark in the fashion industry.

Her manager, Cortez Bryant, tells the New York Times he's got a top priority for 2012 - "to negotiate a deal with a fashion house so Ms. Minaj can sell her own line of clothes."

Minaj has already got friends in high places in fashion - last year, she struck up an unlikely relationship with Vogue editor-in-chief Anna Wintour after meeting her during New York Fashion Week.