Nicki Minaj Denies Jennifer Lopez Feud On 'American Idol'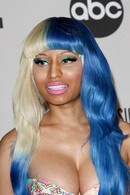 A feud appears to be brewing between Nicki Minaj and Jennifer Lopez after the Super Bass pop star announced a bid to join the American Idol judging panel on TV on Thursday night.

Minaj performed her new hit Starships on the TV talent contest's results show and then revealed she wanted to be a guest judge next week.  She told host Ryan Seacrest, "I was hoping maybe I could come back and be a guest judge."

Then looking straight at J.Lo, she added, "Can you scoot over a little bit?"

Lopez appeared to be less than happy with the idea but she joked it off, stating, "I don't know if there's enough room for both of us."

Backstage minutes later, Minaj told The Hollywood Reporter, "She didn't seem to be having it but she gonna have it (sic). No, actually, I love J.Lo. I love what she's done for pop culture I have nothing but respect for her and we were just joking around. I'm sure I'll have lots of fun with them when I'm guest judging."

On Friday morning when Lopez called in to Seacrest's Los Angeles radio breakfast show, she appeared to be unclear as to whether or not Minaj would be sitting alongside her: "I don't know! She said she wanted to, but we were like, 'OK, come on!' and then she was like, 'Scoot over!' I said, 'I don't know about that! I don't know if we could share the same chair!'"