Nicki Minaj Brings The Filth On Single 'Anaconda'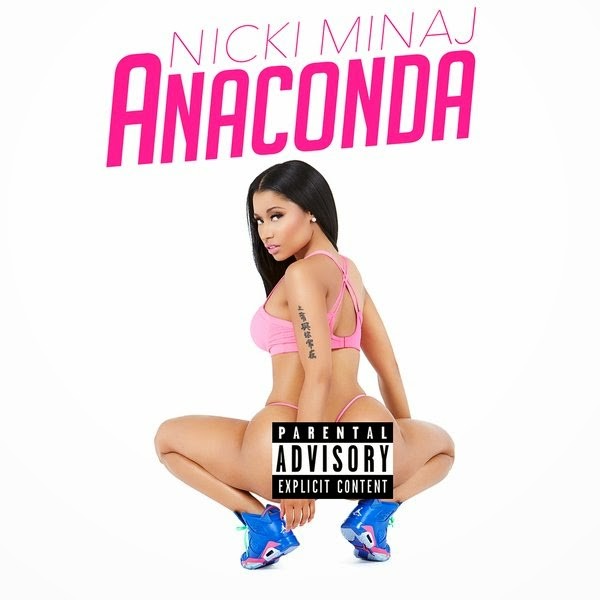 "Oh my gosh, look at her butt!"  Yep, that was the exact sentiment when the ever-unapologetic Nicki Minaj released the cover art for her single, "Anaconda." As suggested by the lyric excerpted from Minaj's new single, the focus of the release of the single has been Minaj's, um, posterior (as well that thong).  On Monday, August 4, "Anaconda" came to life – AHHHHH!
Nicki Minaj's 'buns' have definitely raised some eyebrows, aka controversy and criticism.  Of course for Minaj, she's only fueled by the 'talk,' so she doesn't give a flying-you-know-what about the haters.  Check out her Instagram – she's eating it up.  Enough about the bold visual – time to examine the audio, which has been a big question mark.  
Of course "Anaconda" was expected to be sexual.  With such a powerful visual, how can the accompanying soundtrack not be risqué?  Furthermore, did anyone expect Minaj to reference the actual snake? Those questions are all rhetorical.  "Anaconda" is highly inspired by Sir Mix-A-Lot's ode to booty, "Baby Got Back." Just how inspired? 'Sampled' inspiration, right down to the use of the slang "anaconda."
Those naïve to the world of slang and filth should spend some time embracing the wealth of knowledge that is urban dictionary – you'll be schooled, offended, and entertained.  But if time is short, just listen to the song itself and follow along with the explicit, bold lyrics.  Minaj keeps it real.  There is no shortage of shocking lyrics. 
Among the most outrageous lyrics is iterated following both verses: "Let him eat it with his grills, and he tellin' me to chill / and he telling me it's real, that he love my sex appeal / say he don't like 'em boney, he want something he can grab." Minaj certainly seems to play a role in further objectifying women, but at the same time, makes that objectification view the curvier, thicker lady as appealing.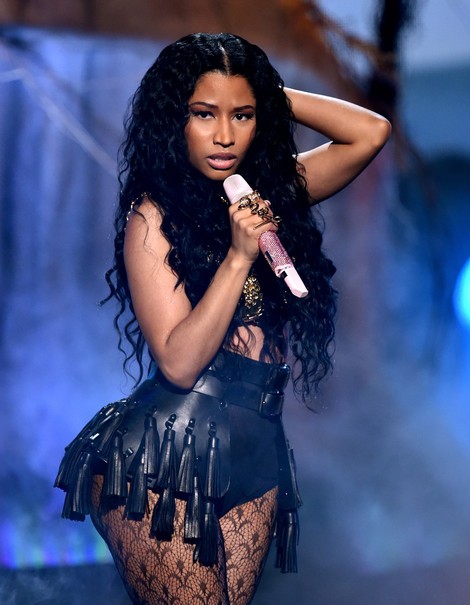 The second verse is much raunchier; Minaj's rhymes certainly have more of a bite and feistiness.  "This dude named Michael used to ride motorcycles / d**k bigger than a tower, I ain't talking about Eiffel's / Real country-a** n***a, let me play with his rifle / p***y put his a** to sleep, now he calling me NyQuil."  She goes on to put the exclamation point as she spits, "…He toss my salad like his name Romaine…" 
By the end of "Anaconda," Minaj totally confirms she has no love for skinny girls.  And no, that's she doesn't state it exactly PG.  But, the Sir Mix-A-Lot hook took care of this at the onset: "My anaconda don't / my anaconda don't / my anaconda don't want none / unless you got buns, hun!"
If "Pills N Potions" was tame, refined Nicki, well "Anaconda" is the antithesis.  "Anaconda" certainly lives up to its hype controversy.  Remember how raunchy "Beez in the Trap" was? Given the fact "Anaconda" is a response to "I like big butts and I cannot lie," the cover art definitely makes sense.  "Anaconda" will definitely bring a hearty helping of naughtiness to any playlist.  
★★★½ 
Nicki Minaj • "Anaconda" (Single) • Cash Money • Single Release Date: August 4, 2014