Nicki Minaj Blows Off Nip Slip In Nottingham: 'You Guys Have Seen My Boobs Before'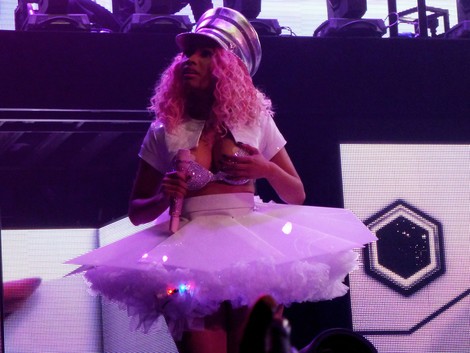 Nicki Minaj doesn't seem to care if she shows a little boob now and again. On Sunday she kicked off her U.K. arena tour in Nottingham, England, and her her bustier slipped down to expose her nipple.
The incident occurred while she was performing "Va Va Voom" wearing a sparkly corset dress.
Recovering from the wardrobe malfunction, Minaj addressed the crowd: "You guys have seen my boobs before. You won't tell anyone, will you? What happens in Nottingham..."
Her costume slid again when she sang "Starships," but in preparation for a repeat incident, the rapper placed adhesive tape, decorated with hearts, over her nipples.
Earlier in the night Minaj told concertgoers they may be exposed to some on-stage nudity: "This is our first show so excuse any boobs popping out or any penises popping out!"
Last year, Minaj had a nip slip while peforming for "Good Morning America."