Nick Nolte Hopes Oscars Nod Will Boost 'Warrior' Sales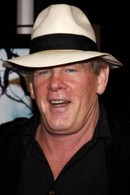 Veteran star Nick Nolte is hopeful his Academy Awards nomination will boost DVD sales of Warrior - because he was "disappointed" with the movie's box office reception.

The 2011 sports drama, about two estranged brothers entering a mixed martial arts tournament, took just $23 million at cinemas, $2 million less than its $25 million budget.

Nolte has been tipped in the Actor in a Supporting Role category at the upcoming Oscars, and he's hoping the high-profile nod will encourage movie fans to watch the fight film.

He tells FOX411's Pop Tarts, "It means we might have better DVD sales. But we were all disappointed - the studio was disappointed, I was disappointed that it didn't do as well as we thought it could."

"But that is just something you can't predict, and you can't say it is anybody's fault."