Nick Jonas: 'Bullying Is Unacceptable'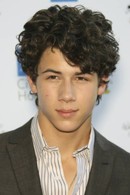 Pop star Nick Jonas has joined the fight against anti-gay bullying by urging victims to "tell an authority" and put a stop to cruel taunts.
 
The Jonas Brothers singer has been left heartbroken by some of the headline-grabbing stories about youngsters who have committed suicide as a result of bullying, and he is now offering his support to those affected, following in the footsteps of Lady Gaga, Miley Cyrus and Demi Lovato, who have all taken a stand against the unkind behavior.

He tells The Advocate magazine, "Know that there are people out there who can comfort you and give you the support that you need, so tell an authority at school or wherever it is you're being bullied. It really breaks my heart to see that."

"Bullying is unacceptable, and specifically with gay teens, it's just wrong. Everyone needs to realize that this is a major issue, and we need to do anything we can to help."