Nick Hogan Hit With Lawsuit From 2009 Crash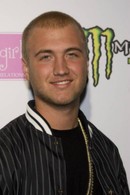 Hulk Hogan's son Nick is facing a lawsuit from a woman who accuses him of leaving her with lasting injuries after their cars collided in 2009.

The reality TV star walked away unharmed following the collision in Los Angeles in November 2009. Now a driver who was allegedly caught up in the crash is suing Hogan after complaining she suffered long-term injuries.

Marcela Posada is demanding at least $25,000 in damages, according to TMZ.com.

Hogan was driving home from a charity event at the time of the crash, which came two years after he wrecked his sports car in a devastating accident that left his passenger, John Graziano, seriously injured.