Nick Cannon's Whiteface Photos Cause Major Backlash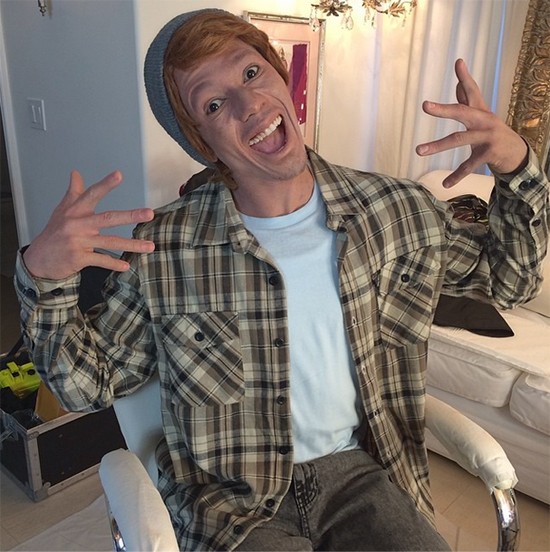 Nick Cannon is promoting his upcoming album "White People Party Music," and the photos he posted on Instagram on Monday are generating a lot of buzz - and not all of it good.
Cannon, who is married to biracial singer Mariah Carey, shared images of himself wearing a wig and make-up to look white as his new alter-ego, named Donnor Smallnut.
The "America's Got Talent" host captioned one image: "It's official... I'm White!!! #WHITEPEOPLEPARTYMUSIC #Wppm in stores April 1st!!!!!!Dude Go Get It!!!Join The Party!!!! #GoodCredit #DogKissing #BeerPong #FarmersMarkets #FistPumping #CreamCheeseEating #RacialDraft "Bro I got drafted!!"
He also posted a photo of Robert Downey, Jr. from the film "Tropic Thunder," in which the actor dons blackface. "Shout out to @RobertDowneyJr This is one of my favorite characters of all time! Hilarious!!! There is a big difference between humour and hatred," he captioned the image.
But not everyone thinks the images are funny. Several fans have blasted him online, including one who wrote: "Why is it considered humor when a black person paints their face white but when a white person paints their face black, it's racism? I don't care what justification anyone has for it. The action is still the same and people have the right to feel violated by @nickcannon actions."
In response to the backlash, Cannon tweeted: "It's funny how people take themselves so seriously. People love drama! We feed off of it. Just relax and have fun!!"
The blackface tradition was prominent in the 1800s when white performers painted their faces to represent black people in minstrel shows and vaudeville. Blackface was considered offensive because it proliferated racial stereotypes.